Intacs®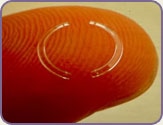 Intacs®, available at our Washington, DC, area practice, is the first non-laser surgical product approved by the U.S. Food and Drug Administration for vision correction. These tiny transparent ring segments can efficiently correct mild to moderate amounts of keratoconus.
EDOW physicians were integral to the development of this product. Dr. Clinch served on the Data Safety Monitoring Board that reviewed all of the clinical research for the FDA submission. He has been an invited lecturer at major ophthalmology meetings on this topic as well as published his results in the prestigious journal Ophthalmology.
Procedure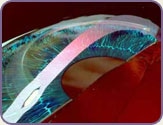 During a brief procedure, Intacs® are implanted into the periphery of the cornea. The channels for the Intacs® segments are created using the IntraLase® laser and the segments are placed into position. By increasing the volume in the peripheral cornea, there is a flattening in the central portion of the cornea. Following insertion of Intacs®, a microscopic suture (thinner than a human hair) is used to close the incision.
The Intacs® procedure is highly effective, with over 80 percent of patients achieving 20/20 vision and over 50 percent of patients seeing better than 20/20! EDOW physicians were the first surgeons in the Washington, DC, area to perform the procedure.
Intacs® are designed to be permanent; however, the segments can be removed. Removal allows the eye to virtually return to its natural state prior to surgery. This attribute and the fact that the surgery does not involve altering the central cornea (as with laser vision correction), make Intacs® a unique technology for vision correction.
Recovery
Visual recovery is very rapid. Patients can return to most normal activities on the same day as surgery (see post-operative instruction sheet). Patients routinely go to work the next day. The results of the recent FDA clinical trials demonstrate long-term stability.
Benefits
The benefits of Intacs® include:
FDA-approved
Non-laser procedure
Rapid improvement in vision
Maintenance-free correction
Excellent visual results
Tissue is not removed from the central cornea, the region most critical to your vision
Intacs® can be removed or replaced
Are You a Candidate for Intacs®?
You may qualify for Intacs® if:
You have a history of keratoconus
You have healthy eyes, free from disease or injuries
You have had stable vision for one year
You are at least 21 years of age
For more information about Intacs®, contact our practice today with locations in Washington, DC, and Maryland.
Click Here for a Chance to Win $1000 OFF LASIK
Related Pages