Selective Laser Trabeculoplasty (SLT)
What is Selective Laser Trabeculoplasty?
Selective laser trabeculoplasty (SLT) is a glaucoma laser procedure used to lower the pressure in the eye. SLT uses short pulses of low energy laser to target specific cells in the drainage system of the eye to stimulate improved function. Ultimately, the SLT procedure can slow or stop the risk of disease progression.
What does the SLT procedure entail?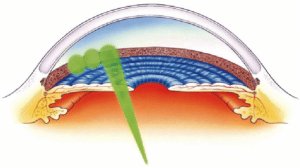 Most laser procedures are performed at a local surgical facility. Before beginning the procedure, the nurse will go over the necessary forms, as well as apply topical medications, including a miotic drop (to decrease pupil size), an eye pressure lowering drop, and an anesthetic drop (for numbing).
When it is time to perform the treatment, you will be taken to a machine similar to the one used to examine your eyes – however, this will include an attached laser. Your ophthalmologist will then place a special contact lens on your eye to keep the lid open and allow for optimal precision. The procedure typically only lasts a few minutes, during which time you may have some mild discomfort.
Soon after your treatment, you can return home with no restrictions to your regular activities. It is normal for your vision to be blurred for a few hours, as well as for your eyes to be sensitive to light and have an achy sensation. You will be given a prescription for a topical anti-inflammatory drop to aid in recovery, which we recommend you begin as soon as you get home. It is important that you also continue taking all of your previous medications as prescribed.
We ask that you come back to our office the same day or the day after your procedure, so we can monitor your eye pressure.
Who is a good candidate for SLT?
SLT is a good option for most primary open angle glaucoma (POAG) patients. On average, it can lower the eye pressure by 5-7 points. It can be used as adjunctive therapy for those patients already on topical medications but may be intolerant to the medication or require a lower target eye pressure. OR, it can be used as primary treatment for patients with early/mild disease who would prefer to hold on using topical medications or do not believe they can be compliant with the every day regimen.
It is important to know that SLT is NOT a cure-all for glaucoma and that you will still require regular follow-up with your doctor.
What are the risks of having SLT?
Complications with SLT are very rare. Post procedure inflammation is common but very mild and typically controlled with non-steroidal anti-inflammatory medications, like ibuprofen.
Occasionally, one may have a rise in his/her eye pressure. However, this is usually transient and can be treated with topical medications for a short period of time.
How long does the effect of SLT last?
In general, the effect will last anywhere from 1-5 years. If the treatment wears off, it is possible to repeat the laser process, but it is often not as effective in subsequent applications.
Consent
All procedures on your eyes require your consent. Therefore, we will explain to you in depth all of the above, answer all of your questions, and only proceed with the laser if you supply us with your consent.
What to Do Once You Get Home
As noted above, you will begin a topical non-steroidal anti-inflammatory drop, typically for one week. If you are taking glaucoma medications, please continue to using them unless otherwise directed by your doctor.
To learn more about the SLT procedure, and if you are a good candidate, please contact us to schedule your consultation.