Jennifer D. Luckie, O.D.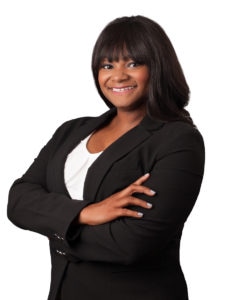 Jennifer D. Luckie, OD has extensive clinical experience in primary eye care, contact lens fittings, refractive and ocular surgery, as well as the diagnosis and treatment of various ocular diseases. After earning her Bachelor of Science degree from Howard University in Washington, DC, she completed her Doctorate of Optometry at the Pennsylvania College of Optometry at Salus University. During this time, she completed multiple student internships, one of which was with our team at EDOW. This allowed her to gain hands-on experience in a practice setting by observing and performing a number of eye care solutions.
As part of the EDOW optometry team, Dr. Luckie helps patients achieve their best vision and eye health by performing comprehensive eye examinations, conducting contact lens fittings for a variety of needs, and diagnosing ocular conditions while finding the best form of treatment. These conditions include glaucoma, diabetic retinopathy, age-related macular degeneration, and other retinal diseases.