Jennifer D. Luckie, O.D.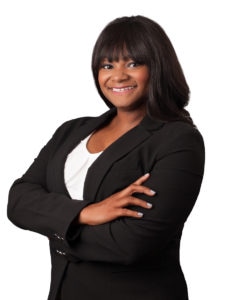 Dr. Jennifer Luckie is an optometrist treating patients in the Washington, D.C. area. As part of the Eye Doctors of Washington optometry team, Dr. Luckie's goal is to ensure that her patients are satisfied and happy while still receiving the best and latest treatment options. Originally from Ohio, Dr. Luckie was first introduced to the Washington, D.C. area while attending Howard University where she received her Bachelors of Science Degree in Chemistry. She obtained her doctorate degree at The Pennsylvania College of Optometry at Salus University in Philadelphia. During this time, she completed multiple internships, one of which was with our team at EDOW. This allowed her to gain hands-on experience in a practice setting by observing and performing a number of eye care solutions. Dr. Luckie's area of concentration is in soft and specialty contact lenses, and ocular diseases.
Upon graduating, Dr. Luckie returned to Washington, D.C. where she
specializes in diagnosing ocular conditions while finding the best form of
treatment. Over the course of her career, Dr. Luckie has become experienced
in fitting gas permeable, scleral, hybrid and other types of specialty contact
lenses. Patients visiting Dr. Luckie can receive a full range of optometric
services, including those who suffer from glaucoma, diabetic retinopathy,
age-related macular degeneration, keratoconus, corneal dystrophy, and
corneal ectasia. Dr. Luckie provides comprehensive dilated fundus eye exams,
fittings for contact lenses, foreign body removal, and general consultations.
Treatment is available for conditions including dry eye syndrome, vision loss,
and eye infections.
Dr. Luckie takes pride in being able to provide excellent care to her patients,
taking the time to educate and listen to them.