Patient Stories
Our Priority is You
For us, that means constantly updating and improving our processes for the betterment of your care and comfort. This happens when we hear from you about your experience with the Eye Doctors of Washington team.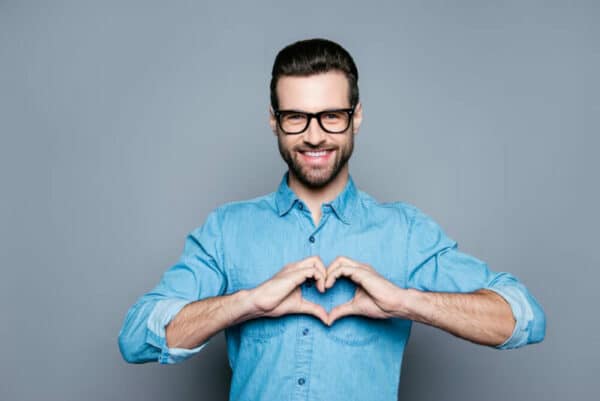 Krystil Smith's LASIK Journey
Follow DC Attorney, Krystil Smith's intimate LASIK journey. She will give you an inside and honest look to every thought, fear and feedback regarding LASIK surgery and the EDOW team. She will discuss every detail of her journey and ask every question you want to know.
Stay tuned for weekly episodes!
Episode 1 – Deciding on LASIK
Episode 2 – Consultation
Episode 3 – After the Consult
Video Testimonials
Paul Arriola with D.C. United
T.J. Oshie from Washington Capitals
Braden Holtby from Washington Captials
Patrick Nyarko and Marcelo Sarvas from D.C. United
Written Testimonials
Live and unfiltered reviews direct from our offices
"Working with the best physicians has taught me the importance of never settling for anything but the best when it comes to my health and my eyes. I have worked closely with Dr. Clinch and Dr. Kang over the past year, and I can confidently say that I could not have been in better hands during my surgery and post-operative care. After a painless five minute procedure I could see the world around me crisper and clearer than before – I even went to work the very next day! As a working professional in our nation's capital and a future physician myself, LASIK was an investment to improve both my quality of life and my self-confidence. It was the best decision I've ever made."

Danny, 23
"Making the decision to undergo Lasik was not an easy decision for me. I went to many different surgeons in multiple states over the course of a few years, but never felt comfortable enough with any Doctor until I was introduced to Dr. Kang. From the moment I met his staff and technicians, I knew that I had finally found the right place for the procedure. From beginning to end, his coordinator and team took every care to ensure that I had all of the information and time that I needed to feel comfortable and confident throughout the entire process. They were incredibly accommodating, professional and genuinely caring. They took all the time that I needed to answer any and all questions I had and made sure that I was well prepared prior to and after the procedure so that I had the best and safest recovery possible. I could not be more happy to have had Dr. Kang and his staff provide this service for me. Lasik has changed my life for the better in every way possible. I have stopped getting as many headaches and migraines and my vision has never been sharper. Thank you Dr. Kang and staff for everything you have done for me."

Ashley L.
When I was thinking about getting my eyes done, there were two issues: could I get up the courage to do it, and if so, who would be my doctor? After meeting Dr. Clinch, I had my answers.

For years, I had thought about getting laser surgery, but was too scared–I had trouble putting eye drops in, so the idea of someone touching my eyes was petrifying. However, my husband met Dr. Clinch and said I should meet with him.

After meeting Dr. Clinch, I had the courage to go forward because he inspired confidence. He was honest (he told my husband he was NOT a candidate rather than try to sell him), he had great credentials, and because he is a skilled surgeon, if something did go wrong, he'd be able to fix it.

Once I had my eyes done, I couldn't believe I waited so long! I could drive without glasses – two days after the operation I was driving at night in the rain with no glasses. Not to mention avoiding the hassle of replacing the countless pairs of prescription sunglasses I lost each year.

Laser surgery with Dr. Clinch was a huge success!

Anne Core, Wife of Radio Personality, Chris Core
"If only every doctor and staff were as professional, dedicated and caring as those at EDOW! I owe you my lifelong gratitude for helping me discover how wonderful it is to be able to see almost 20/20, without the aid of glasses or contacts (especially when you consider I was seeing 20/400 before the procedure!). I just can't thank you enough for my 'new eyes'. You really, truly have given me a new way to look at life!"

Jenni Gambrell, Radio Personality
"When I went in for my LASIK consultation, I was understandably nervous. But, within the first few minutes, the staff at EDOW put me completely at ease. Not by blindly assuring me everything would be just fine, but by knowledgeably explaining exactly what the procedure entailed and what I would expect before, during and after the surgery. By explaining the risks and how they combat them, and just generally displaying their knowledge on the subject in a way that the common 'lay person' could understand (without all the medical gobbledygook!), I felt I was making the best choice about who I was trusting with my eyes and my vision. The doctor and staff took the time to make sure all my questions were answered and made themselves available should any arise between my consultation and surgery."

"During the actual procedure, the surgeon explained what he was doing step-by-step, how much longer it would take and what to expect… the Valium helped, too! But mostly, I simply felt that I was in very capable hands, and being operated on by a person who truly cared about what was best for me and my eyes."

Kerry Barrett, Channel 5 TV News Anchor, Salt Lake City, UT
"I had a -3.5 glasses prescription and now I'm glasses free! The Eye Doctors of Washington changed everything. LASIK was a cakewalk and I'm thrilled. I have lots of thoughts and feelings about it – and I want to get them all out. Here's what happened to me:"

"It was fast – I was in and out in 7 minutes! There wasn't 'pain' either, just a little pressure. How much? Only about as much as I feel in my fingers if I snap. I was worried about not looking away from the light because, you know, everyone talks about that. But honestly, the light isn't that bright and there's plenty to look at so it's easy to stay focused."

"What I didn't expect was a windfall of confidence. Now I feel like I can move faster and swifter. That's probably just my childhood fantasy to be the Six Million Dollar Man – but I feel like Lee Majors and I love it! On the way home after surgery I could read the street signs. When I got home I stood at my window and watched the tree tops sway in the wind. Something simple but it was beautiful."

"It's been a few weeks and there's nothing better than the reflex to adjust your glasses only to realize, you're not wearing any! I get that a few times per week. I love it!"

Warren Brown, Host of Food Network's "Sugar Rush", Owner of Cake Love & Love Cafe
"My near-sightedness used to be horrible and I thought wearing glasses would always be a 'cross I had to bear.' I have been free from the 'tyranny' of eyeglasses for three years and my life is so much better because of it, thanks to Dr. Clinch. I was a little apprehensive at first, but after my initial consultation and an enthusiastic exchange with Dr. Clinch and his professional staff, I felt confident to make the decision to have the Lasik procedure. On procedure day, I was amazed at how quickly it happened. I sat up and could see the clock on the wall! It was nothing short of a miracle! At home, in the shower, I could actually see my feet on the floor instead of blurry images. For some reason, this struck me as funny and I couldn't stop laughing! (I guess I have funny-looking feet!) There are so many advantages to being free from glasses, but I'll just mention one more simple pleasure–being outside in a light rain, say, in June. Sure, you have to come out of the rain, but what's the hurry? It feels good on your face and no blurry raindrops to keep wiping from your glasses. Do it! Treat yourself to a new freedom–because that's really what it comes down to."

Bill Worthington, Radio Personality
"Ever witness an entire lift line down on their knees, looking for your missing contact lens? Know what it's like to reinsert the same dried, crispy lens without a mirror in a 25 mile-per-hour freezing wind? How about trying to ski an icy chute while your Poindexter glasses vibrate like a tuning fork at the end of your nose?"

"Been there. With a prescription of -8.00 (translation: hold up 3 fingers and I can't even see your arm), I finally decided to take the plunge and get my eyes fixed through LASIK surgery. This was a big deal; I can't even stand to watch someone rub their eyes, much less have my own 'melted' with a laser."

"Not wanting to take any chances, I flew out of state and had the renowned surgeons at Eye Doctors of Washington do the surgery. It lasted 10 minutes, felt like someone had thrown a handful of sand in my eyes for about a day, and now I have 20/20 vision. It's definitely the sharpest while skiing because of the clean, cold air."

"For skiers frustrated with dry eyes, contacts blowing out at high speeds, or trying to fit goggles over glasses, this surgery is well worth the 'melt'."

Kristen Ulmer, Professional Extreme Skier
"I have worn glasses since I was 12 and never imagined I would be able to see without them. With the blink of an eye, I can see! No pain, no glare, no halos, no problem. Thanks to EDOW I am cured. LASIK is a miracle of modern technology."

Ellen Malcolm, President of Emily's List
"I wanted the best possible care and technology for my eyes. The doctors and staff at Eye Doctors of Washington were exceptional to work with; they thoroughly explained the procedure and what to expect afterwards. Because of their experience, there were no surprises during the surgery and I now see 20/15. I would highly recommend EDOW to family and friends."

Sincerely, Kirk B.
"I had my LASIK procedure at Eye Doctors of Washington five years ago and have loved every minute of my glasses-free vision. As an outdoor enthusiast, this has changed my freedom immeasurably. With a little monovision, I even do most of my near work without glasses (a neat trick for someone 55). I thank EDOW for this gift."

The John A. Moran Presidential Professor and Chair of Ophthalmology and Visual Sciences Director, John A. Moran Eye Center

Randall J. Olson, MD
"It is difficult to put my gratitude into words. EDOW changed my life the day they performed my PRK eye surgery. They are skilled and gentle. Best of all, they sincerely care about their patients. I never felt rushed, scared or worried. Thank you to the doctors and staff at EDOW. You're true professionals."

Megan H.
"20/400 and now 20/20 – My life has changed dramatically due to this surgery. I recommend EDOW to everyone wearing contacts! Thank you for my vision!"

Nicole C.
"This surgery is truly a miracle! The procedure was surprisingly quick and easy and I was seeing again immediately afterward."

Renee D.
"After wearing contact lenses, I find it just wonderful to be able to see without them. I can't believe how easy the procedure was. I'm really thrilled about it. You're in good hands with the doctors and staff at EDOW."

Carol B.
Our experience was very wonderful. Dr. Mayer was quite thorough in his examination. Such patience and a considerable amount of time was given to explain my diagnosis. The front reception was cordial and quite friendly. Even through a hiccup with CARE Credit, the Business Office Manager got involved to effectively correct the problem. I benefited from all – around great care and support.

Denise L.
Great staff, doctor and visit! They did not keep me waiting and have the most advanced equipment in their offices. Great experience! Thank you!

Benjamin S.
The services and medical care provided by Eye Doctors of Washington, and Dr. Schor in particular, has been wonderful for all of the 15 years that I have been coming here.

Donna P.
Dr. Fischer is amazing! I have the utmost trust in her abilities and guidance. My surgery went off without a "hitch", thanks to her and her wonderful team!

Kathryn M.
Dear Doctor Clinch,

I want to take this opportunity to express my sincere thanks for the outstanding clinical care you have accorded me. It's wonderful to have regained such good vision.

As a patient I have been very impressed by this experience. Your entire service delivery is sow well organized, so smooth and professional. I am eternally grateful. I am aware also of your generosity.

Sincerely, Donald C.
A little background on me. I am a 72-year old male and I have worn eyeglasses for most of my adult life. About 10 years ago my prescription was changed so that it included bifocal lenses. Cataracts started developing perhaps about 12 or 15 years ago. Dr. Kang examined me in May and I asked him about having the cataracts extracted and having multifocal lenses implanted. I believe that I had pretty high expectations of how this would turn out for me. I really wanted to get to the point that I would not wear any glasses.

BUT, my result is well beyond my wildest expectations. This surgery and the lens implants have been life changing for me. It is unbelievable to me how much my vision has improved. Colors are outstanding and I cannot believe what I was missing in terms of color and light. It is as if someone finally turned on the lights. My night vision is unbelievably good. My computer, TV viewing and reading are all uniformly outstanding.

My surgery was on August 19 and August 26 (one eye on August 19 and the second eye a week later). I wear no glasses. In fact, I've given nearly 30 pairs of prescription glasses to charity. My vision now is way better than it was when I was 40 years of age.

I'm sure part of my vision success is due to the Technis multifocal lenses, but I give all of the credit for the dramatic improvements to Dr. Kang and his staff. Dr. Kang is an outstanding eye surgeon and has excellent patient interaction. His staff is also outstanding. The office staff communication with me as a patient was just outstanding. Pre-surgical exams were efficient and the results were communicated to me very clearly and with no ambiguity. Nina Delaroca was extremely efficient at providing me with information and scheduling and handling the administrative details regarding payment, insurance and prescriptions.

My experience with the Palisades Eye Surgery Center was also flawless and I was very impressed with how I was taken care of as a surgical patient at Palisades.

A final note. I believe that you can tell a great deal about a medical practice when you walk into the waiting room and wait there. You sense that you can tell if the practice is well run and if the staff enjoys working there. At least in the Vienna Office of Eye Doctors of Washington, the staff and my experience has always been outstanding. The employees have smiles on their faces. I can tell that they all have great respect for Dr. Kang and they work extra hard to have all information in front of Dr. Kang so that he can make the best decision.

I cannot say enough about my excellent experience and my truly excellent vision results. I am still amazed that I can see as well as I do at my age. I recommend Dr. Kang and his staff without any hesitation.

John A.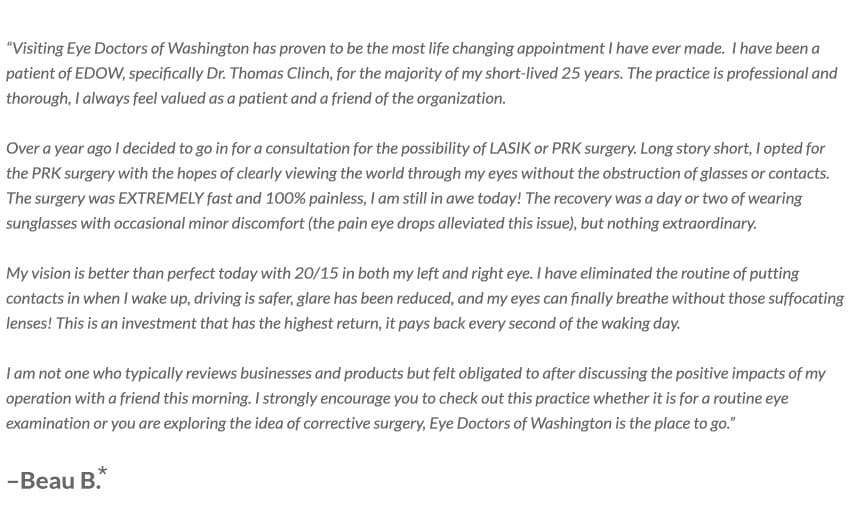 *Results May Vary