Advanced Technology Lenses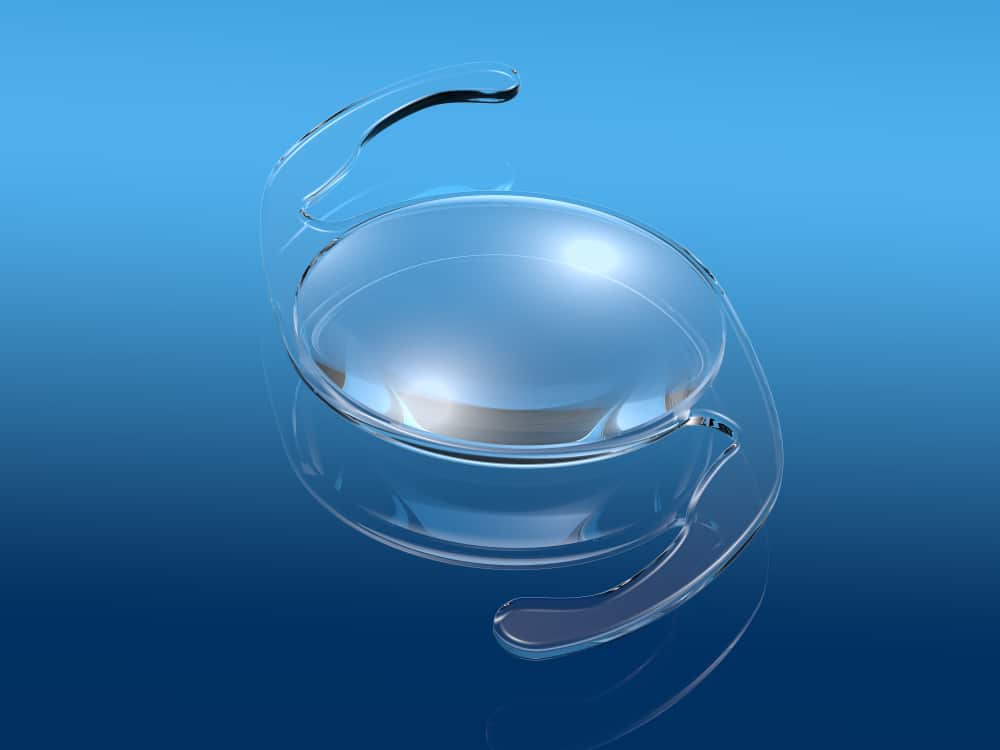 During cataract surgery, the inner lens of the eye is fragmented, extracted, and then replaced with an intraocular lens implant (IOL). The lens implant not only takes the place of the natural lens – it can also correct refractive errors (nearsightedness, farsightedness, and astigmatism) for improved vision. IOLs are extraordinarily advanced lenses, and many types of IOLs can even be used to enhance the vision of patients without cataracts in an elective procedure called refractive lens exchange (RLE).
IOLs from our experienced ophthalmologists at Eye Doctors of Washington have proven to be highly effective components of cataract surgery and can dramatically improve the quality of your eyesight.
Multifocal IOLs
Multifocal IOLs were FDA-approved in 2005 and revolutionized lens replacement for cataract surgery. Originally, IOLs could only correct nearsightedness or farsightedness. However, the innovating Multifocal IOL focuses light in such a way that allows the enhancement of near, intermediate, and distant vision. One clinical study demonstrated that 80% of patients who receive Multifocal IOLs no longer need to rely on corrective eyewear for activities that ranged from reading to driving. Our eye doctors are some of the most experienced users of Multifocal IOL technology in the United States. In fact, the Eye Doctors of Washington were the first to use Multifocal intraocular lens implants in Washington, DC. Our patients are very happy with the quality of life improvement that Multifocal IOLs offer them.
TECNIS® Symfony
The TECNIS® Symfony IOL is approved by the FDA to improve extended vision following refractive cataract surgery or refractive lens exchange. Our doctors were part of the initial FDA trials that ultimately led to this approval and are proud to offer the advanced new IOL at EDOW. The Symfony lens is the first of its kind to correct presbyopia with extended depth of focus. It was specifically designed to improve near and immediate while maintaining the quality of distance vision. As a result, patients typically have a reduced dependency on corrective eyewear, like glasses and contact lenses. The Symfony IOL can also treat astigmatism through one of its four Toric models.
Vivity Extended Depth of Focus
The Alcon Acrysoft Vivity IQ artificial lens is the latest generation of extended depth of focus IOL approved by the FDA. The Vivity IOL is designed to enable a broader range of vision- with patients reporting excellent distance and intermediate vision and functional near vision. Most patients can see well on a computer screen or a smartphone, and comfortably read printed material on a menu, price tag, or magazine without the need for glasses. While the Vivity IOL does not enable patients to see print as small as with the multifocal IOLs, the major advantage of the Vivity IOL technology is that there is no increased rate of glare or haloes as can be seen with multifocal IOLs. In clinical trials, the Vivity extended depth of focus IOLs had the same low rates of glare and haloes as the standard monofocal IOLs. Vivity IOL models are also available to treat astigmatism.
Toric IOLs
Astigmatism is a common condition that impairs vision due to an uneven curvature of the cornea. While a standard lens implant placed during cataract surgery can correct for nearsightedness and farsightedness, it cannot correct for astigmatism; therefore, quality distance vision may still require glasses or contact lenses. Surgical treatments such as LASIK laser vision correction, limbal relaxing incisions, and astigmatic keratotomy can be beneficial in cases of astigmatism; however, a new type of intraocular lens called the Toric IOL may be the ideal solution. A Toric IOL is an innovative lens implant option because these unique lenses can correct distance vision and astigmatism simultaneously, reducing or eliminating the need for corrective eyewear. For cataract surgery patients with astigmatism who do not want to rely on glasses and contacts, Toric IOLs implanted after removal of the cataracts can offer very successful results.
RxSight® Light Adjustable Lens™
The light adjustable IOL from RxSight, also called the RxLAL, is the first and only IOL that can be customized after surgery for a more precise prescription. This light adjustable lens has special photosensitive properties that allow your eye doctor to adjust it after placement, which can help you achieve the most accurate vision correction possible. Another benefit of this IOL is that it has been clinically proven to be a good choice for patients who have previously had refractive surgery such as LASIK or PRK.
The RxLAL is placed during cataract or RLE surgery. Within two to three weeks after your surgery, you will return for two to four light adjusting appointments. During these quick and painless post-operative treatments, your eye doctor will use UV light to make any necessary adjustments to your prescription. The team at Eye Doctors of Washington is excited to be the first and only vision practice in Washington D.C. to offer patients this new and exciting technology.
Schedule a Consultation with Eye Doctors of Washington
For more information about our IOL options including Multifocal IOLs and Toric IOLs, or to schedule a consultation, please contact us today.