Dry Eye
Millions of Americans suffer from eye irritation due to dry eyes. The condition is one of the most common causes for a visit to the eye doctor and is especially prevalent in people ages 65 and older. Unfortunately, dry eye syndrome is often overlooked or undertreated by patients and eye care providers, which is why our eye doctors at Eye Doctors of Washington take special care to provide a comprehensive evaluation of your condition to determine the best form of treatment.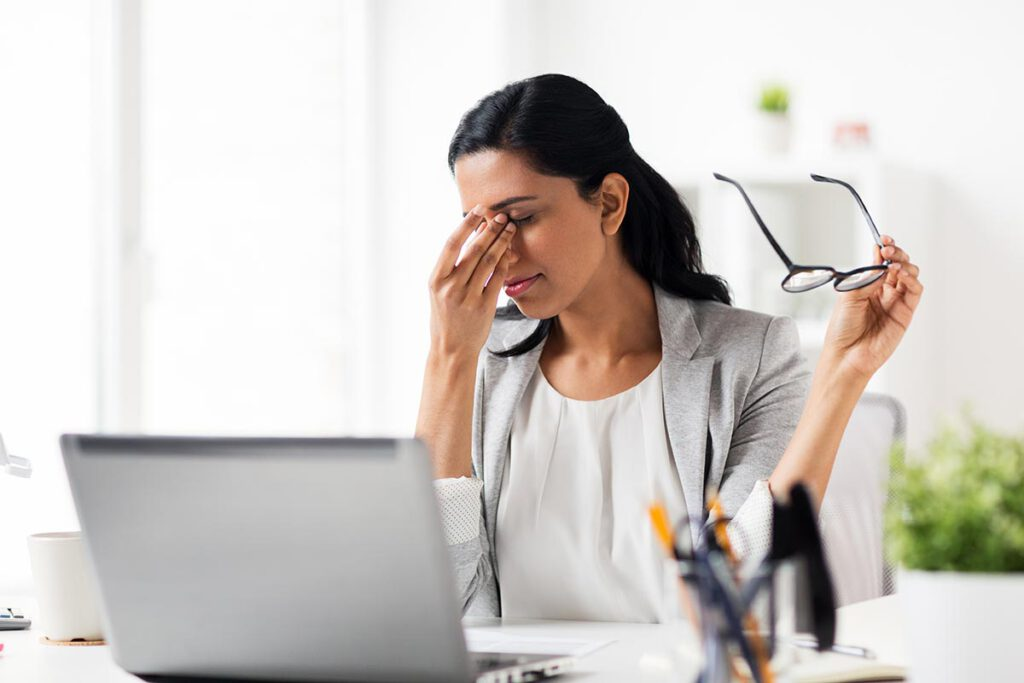 Causes of Dry Eyes
Recent research on dry eye syndrome has revealed it to be a complex condition with several potential causes. Many factors can lead to dry eye, including genetics, aging, medications, work environment, and inflammatory conditions like blepharitis. In addition, when people work in a climate-controlled office with extensive use of computers, further environmental strain is placed on the eyes.
When you visit Eye Doctors of Washington with concerns of dry eyes, one of our skilled professionals will conduct a thorough evaluation to find the cause of your eye irritation. With this information, we can help you find the most effective treatment method for your condition.
Chronic Dry Eye or Meibomian Gland Dysfunction?
Dry eye symptoms are often chronic and you don't have to live with them. Chronic dry eyes can be due to Meibomian Gland Dysfunction (MGD), the leading cause of dry eyes. The meibomian glands are the glands located inside the upper and lower eyelids which generate the oils necessary for a healthy tear film on the eye. If the glands are blocked, then not enough oil is produced and tears evaporate quickly, causing dry eyes. People who are at risk for MGD vary across age groups and lifestyle habits. Wearing eye makeup such as eyeliner can block the glands, which is why it is important to properly remove makeup nightly. People over age 40 have been found to be at greater risk of developing MDG as well1.
One of the most effective ways to restore gland function and treat MGD is with the FDA-approved LipiFlow®Activator. Lipiflow® uses Vectored Thermal Pulse™ (VTP) technology to apply heat and pressure to the inner eyelid and safely remove gland blockages. It treats both eyelids simultaneously and only one, quick treatment is needed for significant reduction in dry eye symptoms.2
Treating Dry Eye Syndrome
Symptoms of dry eyes can appear gradually and the symptoms may be subtle to start, which leads many patients to adapt to the discomfort or dismiss it as a temporary condition.
In order to treat dry eye syndrome correctly, a systematized approach should be undertaken. While traditional treatments for dry eye have only focused on artificial tear supplementation, a host of new diagnostic and treatment modalities have recently become available. At Eye Doctors of Washington, we utilize the latest technology to accurately diagnose and effectively treat patients with dry eye syndrome.
If you have any questions regarding dry eye syndrome, or if you wish to schedule a consultation, please do not hesitate to contact us.
Lipiflow® Treatment
In a 12-minute appointment, LipiFlow® removes blockages in the Meibomian glands, allowing them to properly function and produce the protective tear film oil.
LipiFlow® activators are single-use sterile devices that safely and comfortably deliver a combination of heat to the inner lids and simultaneous therapeutic motion to the outer lids, to remove blockages from the Meibomian glands. Activators are contoured to protect delicate eye structures by avoiding contact with the cornea. Six to eight weeks after treatment, you should expect to see maximum results.
TearCare® Treatment
TearCare® is a 15-minute in-office procedure used to treat meibomian gland disorders. The sterile single-use flexible eyelid devices gently adhere to the contours of the patient's eyelids and apply low heat. SmartLidTM technology works in conjunction with the blinking eye to facilitate natural meibum expression as the meibum melts. The TearCare® procedure is usually repeated every two years or every year. After TearCare®, we may prescribe a corticosteroid such as Inveltys or Lotemax SM for use twice per day.
TearLab™ Osmolarity System
Using the new TearLab™ Osmolarity system, we can now measure the extent of a patient's dry eye syndrome. This is done by measuring tear osmolarity, which is closely related to how dry the eyes are. The technology allows our doctors to gauge the severity of your eye dryness and monitor your response to treatment. Treatments can be individualized for each patient based on their unique measurements.
EDOW is an accredited dry eye center under TearLab™, which demonstrates our commitment to providing the highest level of dry eye care through advanced diagnostic and treatment technology.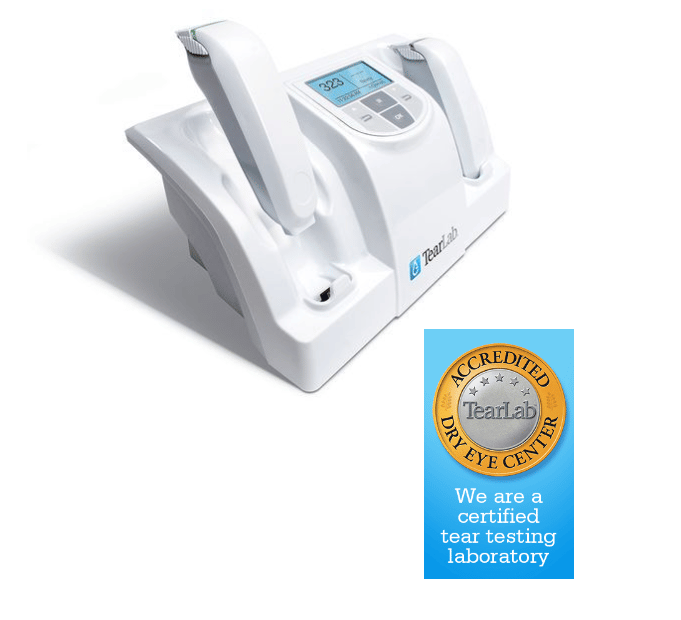 Contact Us
Don't live with the discomfort of dry eyes any longer. Contact us to schedule a dry eye consultation to discuss your dry eye symptoms and treatment options. Using our state of the art equipment and various methods of care, we have successfully treated many patients for dry eyes and greatly reduced their symptoms.
1 J Ophthalmol. 2016; 2016: 7526120.
2 Curr Eye Res. 2012 Apr;37(4):272-8.