7 Diabetic Friendly Recipes to Protect Your Eye Health!

It's Diabetes Awareness Month!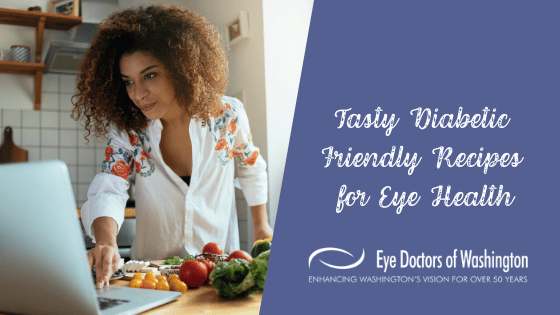 This is the time to make sure you're up to date on your eye exams and doctor appointments, exercising, and eating right!
We serve our diabetic patients every day by offering comprehensive eye exams that fit their needs. If you have diabetes, it is important that you receive comprehensive eye exams including visual acuity testing, intraocular pressure testing, pupil dilation for examination of the retina and optic nerve, ultra wide field imaging when applicable. These tests will identify symptoms of eye diseases that diabetic patients are more likely to develop such as diabetic retinopathy, glaucoma, and cataracts.
In honor of Diabetic Awareness Month, we'd like to give our diabetic patients some tasty and healthy diabetic recipe inspiration that are well suited to protect eye health as well.
Nutrients Beneficial to Eye Health
Beta Carotene: Found most commonly in red/orange hued foods such as sweet potato, carrot, pumpkin, butternut squash, cantaloupe, and red bell pepper
Lutein: Found in vegetables such as kale, collards, spinach, and peas,
Vitamin E: Found in almonds, sunflower seeds, fish, leafy greens
Zinc: Found in lean meat, fish, seafood, and pumpkin seeds
Selenium: Found in nuts, seeds, fish, and seafood
Recipes:
Coconut Chicken Soup
Source: Diabetes Strong
Why It's Good:
This soup is warming, savory, and flavorful. It contains pumpkin, red bell pepper, and lean chicken, all of which are beneficial to your eye health.
Nutrition: Each serving has 17g protein, 12g carbs, 13g fat, and 231 calories.
Toasted Farro Salad with Roasted Leeks and Root Vegetables
Source: Food 52
Why It's Good:
This grain bowl is enjoyable hot or cold with fresh herbs and crumbled cheese for extra flavor. It contains rutabaga and turnip, both of which are rich in vitamins and minerals.
Nutrition:
Each serving has 17g protein, 50g carbs, 16g fat, and 406 calories.
Spinach Salad with Bosc Pears, Cranberries, Red Onion, and Toasted Hazelnuts
Source: FoodBuzz
Why It's Good:
This salad is sweet, savory, and totally "FALL". The spinach and hazelnuts are rich in vitamins, and for an extra nutritional and flavor boost, you can add hot roasted squash.
Nutrition: Each serving has 3g protein, 21g carbs, 17g fat, and 229 calories.
Autumn Grain Bowl with Cinnamon Maple Balsamic Vinaigrette
Source: Plays Well With Butter
Why It's Good:
This grain bowl healthy but hearty, with kale, sweet potato, and walnuts that make it chock-full of nutrients for eye health.
Nutrition: Each serving has 21g protein, 42 carbs, 17g fat, and 385 calories.
Brown Rice Congee with Kimchee, Scallions, and 7-Minute Eggs
Source: Real Simple
Why It's Good:
Congee is a comforting, easy to digest rice porridge perfect anyone under the weather or just a bit chilly this time of year. It pairs well with eggs and fish which provide selenium and zinc essential to eye health. The kimchi adds vitamins A, B, C, and K and lactic acid bacteria for gut health.
Nutrition: Each serving has 3g protein, 27g carbs, 3.5g fat, and 150 calories.
Bulgur Chili
Source: CookingLight
Why It's Good:
This chili is hearty, heart healthy, and easily customized for different diets. Meat eaters could add ground turkey or beef and vegans can leave out the sour cream. The bulgur and kidney beans are flavorful sources of protein, rank low on the glycemic index, and are a good source of B vitamins, manganese, folic acid, and iron.
Nutrition: Each serving has 10g protein, 43g carbs, 8g fat, and 274 calories.
Healthy Pumpkin Pancakes
Source: Diabetes Strong
Why It's Good:
These pancakes make for a delicious high protein breakfast complete with beta carotene for eye health.
Nutrition: Each serving has 23g protein, 16g carbs, 1g fat, and 182 calories.
We hope you enjoyed these recipes! When you think about diabetes and your health, don't forget about your annual comprehensive diabetic eye exam!
If you're due for an eye exam, click here to request an appointment.