Laser Glaucoma Treatments
Glaucoma is a common eye condition that causes damage to the optic nerve and requires treatment in order to prevent permanent vision loss. While there is no cure for glaucoma, there are several options to manage the disease. Laser treatments can be an effective tool to manage the effects of glaucoma, and they may help reduce or eliminate the need for daily glaucoma medications.
The glaucoma specialists at Eye Doctors of Washington are experienced in laser glaucoma treatments, including selective laser trabeculoplasty, laser peripheral iridotomy, and endocyclophotocoagulation laser treatment. We focus on advanced treatments and personalized care to help patients with glaucoma in Northern Virginia, Washington D.C, and Maryland. Learn about glaucoma treatment options and feel free to contact us with any questions.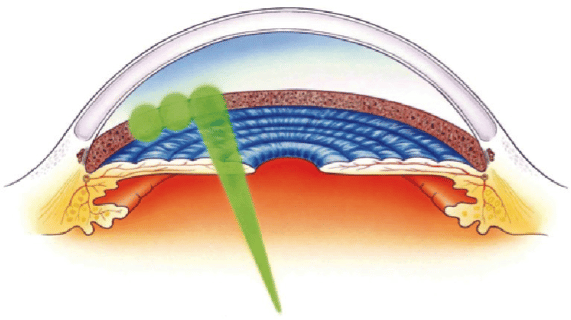 Selective Laser Trabeculoplasty (SLT)
Selective laser trabeculoplasty (SLT) is a glaucoma laser procedure used to lower the pressure in the eye. SLT uses short pulses of low energy laser to target specific cells in the drainage system of the eye to stimulate improved function. Ultimately, the SLT procedure can slow or stop the risk of disease progression.
SLT is often a good option for patients with primary open angle glaucoma (POAG). On average, it can lower the eye pressure by up to 35%.1 It can be used as adjunctive therapy for those patients who are already on topical medications, but require further treatment to adequately lower pressure. SLT may also be used as primary treatment for patients with early/mild glaucoma who are not ideal candidates for a medication regimen.
Laser Peripheral Iridotomy (LPI)
Laser peripheral iridotomy (LPI) is a treatment used to prevent or treat narrow angle glaucoma. It uses a focused laser beam to make a microscopic hole in the colored part of the eye, the iris. The small hole can improve the shape of the front part of the eye, and allow for fluid to flow more normally and enable the drainage system of the eye to become unblocked.
Unlike more common forms of glaucoma that progress slowly, narrow angle glaucoma can cause a sudden "glaucoma attack" that causes irreversible vision loss. Your eye doctor may recommend a preventative LPI treatment if you are at risk of developing narrow angle glaucoma.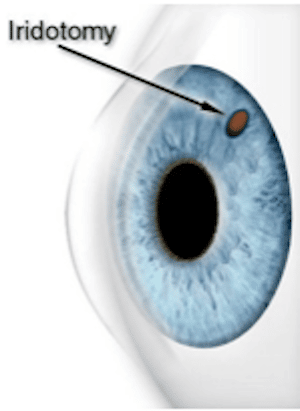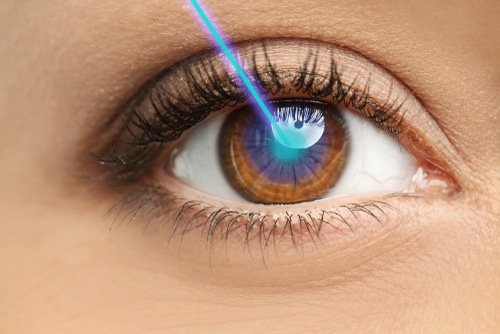 Endocyclophotocoagulation Laser (ECP)
Many people with glaucoma have an imbalance between fluid production and drainage within the eye, which can lead to a pressure increase. Endocyclophotocoagulation laser treatment (ECP) is designed to lower intraocular pressure by decreasing fluid production. The ECP laser can be useful in many types of glaucoma, and can be used as a stand-alone procedure, or in combination with cataract surgery. The ECP laser may reduce the amount of drops a person needs, or improve eye pressure with the same number of drops.
A small video camera at the tip of the ECP laser apparatus enables the surgeon to carefully direct laser energy at the ciliary processes, the part of the inside of the eye that produces fluid. In most cases, when the ciliary processes are treated by the laser, there is less fluid produced in the eye, and the intraocular pressure is lowered.
Preparing for Laser Glaucoma Treatment
Once you and your eye doctor decide that laser glaucoma treatment is right for you, you will have a consultation appointment with your glaucoma surgeon or laser specialist. This is your opportunity to discuss any concerns and get answers to any questions.
Some laser treatments are performed in the office, while others are performed at a local surgical center. Since general anesthesia is not required, you will not need to make special preparations such as fasting. You should arrange to have a friend or family member drive you to and from surgery. Our surgical team will assist you with any necessary paperwork and then prepare you for your procedure. Eye drops will be applied, including an anesthetic drop to numb your eyes. The actual laser procedure usually takes just a few minutes per eye.
Recovery After Laser Glaucoma Treatment
Most patients can resume regular activities the day after laser glaucoma treatment. Immediately after your procedure, you may experience some temporary blurriness in vision or sensitivity to light. Your surgical team will provide you with post-procedure guidelines, which usually include anti inflammatory eye drops, and you will be scheduled for a follow-up appointment.
Frequently Asked Questions About Laser Glaucoma Treatments
Are there risks to laser treatments for glaucoma?
All medical procedures carry some risk of side effects or complications. Laser glaucoma treatment is typically a low-risk procedure when performed by an experienced provider. Potential risks include swelling, discomfort, and injury to the cornea, all of which can resolve on their own or with eye drops.2 Your individual risk will depend on the details or your procedure and your medical history; your surgeon will discuss risks with you at your consultation appointment.
Are laser treatments more effective than eye drops for glaucoma?
At Eye Doctors of Washington, we provide personalized treatment for each patient. We understand that what is best for one person may not be right for another. That said, studies do show that laser treatment can be a more attractive and beneficial option for many patients.3
Will the laser procedure hurt?
Anesthetic eye drops will be applied to numb your eyes. A special lens that may be used to keep your eye open can cause some mild discomfort, but your eye will be numbed and should not feel the actual laser. Our team will do everything we can to ensure your comfort.
How long will my results last after laser treatment?
It is important to understand that there is no cure for glaucoma, but laser treatment can be an effective tool to manage glaucoma.The results of a laser glaucoma procedure can vary. For example, SLT patients may have results that last one to five years. Most laser treatments can be repeated if needed.
Contact Eye Doctors of Washington
The team at Eye Doctors of Washington is dedicated to providing effective treatments and exceptional patient care. Our glaucoma specialists are experienced in a range of glaucoma treatments. Contact us with any questions or to schedule an appointment.


1 Samuelson, TW. Chang DF. Marquis, R. A Schlemm Canal Microstent for Intraocular Pressure Reduction in Primary Open-Angle Glaucoma and Cataract. Ophthalmology. January 2019 Volume 126, Issue 1, Pages 29–37
2 National Eye Institute. Laser Treatment for Glaucoma. Available: https://www.nei.nih.gov/learn-about-eye-health/eye-conditions-and-diseases/glaucoma/treatment Accessed August 19, 2020.
3 Gazzard G, Konstantakopoulou E, Garway-Heath D, Garg A, Vickerstaff V, Hunter R, Ambler G, Bunce C, Wormald R, Nathwani N, Barton K, Rubin G, Buszewicz M; LiGHT Trial Study Group. Selective laser trabeculoplasty versus eye drops for first-line treatment of ocular hypertension and glaucoma (LiGHT): a multicentre randomised controlled trial. Lancet. 2019 Mar 8. pii: S0140-6736(18)32213-X. doi: 10.1016/S0140-6736(18)32213-X. [Epub ahead of print]