Anand Mantravadi M.D., F.A.C.S.
Page Updated: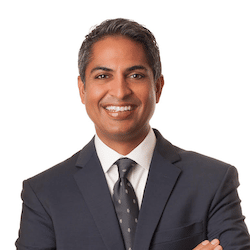 Dr. Anand Mantravadi, MD is a board-certified ophthalmologist and a fellowship trained glaucoma specialist at Eye Doctors of Washington (EDOW).
Prior to joining EDOW, Dr. Mantravadi was a member of the Glaucoma Service at Wills Eye Hospital, and served as an Assistant Professor of Ophthalmology at Jefferson Medical College. He also served as the Glaucoma Fellowship Director at Wills Eye Hospital.
Dr. Mantravadi is an expert in the full spectrum of both surgical and medical management of glaucoma and cataract surgery, offering the most current technologies. He has extensive experience in all options for minimally invasive glaucoma surgery, trabeculectomy, and glaucoma drainage devices and has trained other physicians in these techniques. He also offers the full range of cataract surgical options.
Dr. Mantravadi graduated from DePauw University and pursued a master's degree at Purdue University. He earned his Doctor of Medicine degree at the Indiana University School of Medicine. Subsequently, Dr. Mantravadi completed an internship at the University of Illinois in Chicago before going on to complete his residency in Ophthalmology at the Eye Institute at the Medical College of Wisconsin, where he was Chief Resident. He completed a Clinical Fellowship focused on glaucoma treatment at the internationally recognized Wills Eye Hospital.
Dr. Mantravadi is very active in both clinical care and research. He has been an investigator in a number of clinical trials, presented at many national meetings, and served as a key opinion leader and invited lecturer. His work has been published in a number of prestigious journals, and he has also authored several book chapters. In 2011, he received the Mentoring for Advancement of Physician Scientist Award from the American Glaucoma Society.
During his time at Wills Eye, he was closely involved in both resident and fellow surgical education. He has also taught courses for other ophthalmologists at the American Academy of Ophthalmology.
Dr. Mantravadi has been regularly named to Best Doctors. He is a Diplomate of the American Board of Ophthalmology, and also volunteers with the American Board of Ophthalmology in the oral examination for new candidates. He is an active member of the American Academy of Ophthalmology, the American Glaucoma Society, and the American Society for Cataract and Refractive Surgeons.
Dr Mantravadi and his wife, an internal medicine physician, enjoy spending time with their two children, traveling, cooking, and fitness.
Dr. Mantravadi sees patients at our Tysons Corner, VA and Washington DC locations.
Book an appointment with Dr. Mantravadi