Laser Cataract Surgery
Cataracts are a common eye condition that causes significant visual deterioration, and approximately half of the U.S. population will be impacted by the effects of cataracts at some point in their lives. When left untreated, cataracts may eventually result in blindness. Though traditional cataract surgery has saved the eyesight of millions of people, laser cataract surgery adds additional accuracy and predictability to the process, resulting in less reliance on glasses after surgery. Eye Doctors of Washington is proud to be the first practice in Washington DC to offer this innovative treatment. Our eye doctors use the FDA-approved CATALYS® Precision Laser System, the first of its kind in the US.
CATALYS® Precision Laser System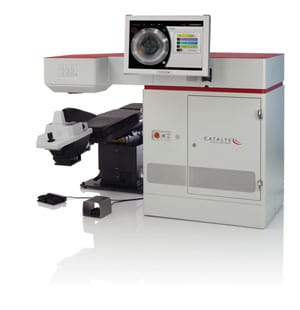 The CATALYS® Precision Laser System is computer-guided and surgeon-controlled. Compared to traditional cataract surgery, the benefits of laser cataract surgery using this state-of-the-art technology include:
Greater surgical precision with a custom-guided laser
Corneal incisions and anterior capsulotomies are performed without the need for a surgical blade
Reduces the energy required for cataract removal
Laser Cataract Removal Procedure
Dr. Thomas E. Clinch, Dr. Paul C. Kang, and Dr. Deepika N. Shah perform laser cataract surgery by using a precise computer-rendered image of the eye as a guide. This technique allows for accurate, gentle incisions for cataract removal. The CATALYS® Precision Laser System is specifically designed to remove threatening cataracts from the eye that can lead to severe vision impairment or blindness. Many of our patients at Eye Doctors of Washington decide to have a standard or premium lens implant placed in the eye during surgery to improve their vision while simultaneously eliminating any cataracts.
Schedule a Consultation with Eye Doctors of Washington
To learn more about cataract surgery and the benefits of the CATALYS® Precision Laser System, or to schedule a consultation, please contact Eye Doctors of Washington today.