Astigmatism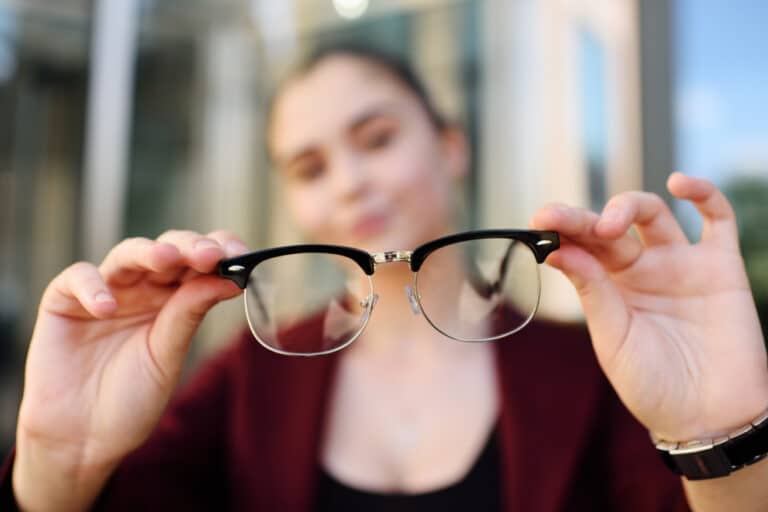 Astigmatism is often a naturally-occurring, sometimes inherited, condition wherein the eyeball's cornea is shaped like an oval, rather than a sphere. This abnormality in curvature causes light to be refracted at multiple focal points in the retina, which can result in blurry vision at all distances. It is very common for people to be born with some degree of astigmatism and, in milder cases, symptoms may not be prominent enough to warrant corrective lenses. However, astigmatism is sometimes accompanied by nearsightedness (myopia) or farsightedness (hyperopia), two similar eye conditions that can debilitate vision to the point where treatment is recommended. Although astigmatism frequently occurs naturally, the condition can also result from eye diseases and injury. Generally, the greater the astigmatism, the blurrier images and objects will appear. In turn, straining to perceive objects at all distances often results in headaches, eye fatigue, and an inability to effectively perform certain activities, such as reading a book or directional signs.
Treatments for Astigmatism
Many mild cases of astigmatism can be treated with glasses and contact lenses; however, for those seeking a more comprehensive solution, a medley of different treatment options exist.
Intraocular Lenses (IOLs)
With an intraocular lens, the eye's natural lens is replaced with an artificial version that can vastly improve distance vision and allow for a larger depth of focus. IOLs are widely utilized for patients with cataracts, but they are also versatile enough to effectively treat astigmatism, as well as nearsightedness and farsightedness. IOLs can improve vision as a lone procedure called refractive lens exchange (RLE) or in accordance with cataract removal surgery.
Implantable Collamer Lens (ICL)
Implantable collamer lenses can correct many refractive errors caused by an irregular corneal shape. This option is typically exceptional for individuals who need high levels of correction and those with moderate to severe myopia. Rather than replacing the eye's natural lens with an artificial lens – as is the case with intraocular lenses – lenses are placed over the eye's natural lens to work with the optic focusing system. After treatment, images are typically rendered clearly at any distance, and dependence on glasses and contact lenses is substantially minimized.
Refractive Laser Surgery
Refractive laser surgery is generally an effective solution to most vision problems associated with persistent blurriness. Procedures such as LASIK and PRK can correct nearsightedness, farsightedness, and astigmatism by reshaping the cornea to better refract light.
As so many treatment options for astigmatism exist, our Washington, DC eye surgeons would be happy to discuss which procedure would be best suited to your specific vision needs in an initial consultation. Contact us today to learn more.