EDOW Partners with Health in Sight Mission
Eye Doctors Of Washington Gives Back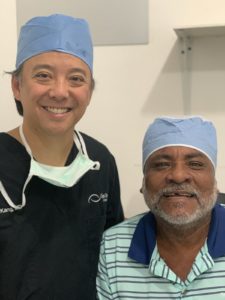 In addition to providing comprehensive eye care for patients in the Washington DC area, the team at Eye Doctors of Washington (EDOW) is committed to improving vision for those in need. In the past, we have donated over 10,000 glasses to Restoring Vision, worked with the Michigan Helps Medical Team in Guatemala, and supported runs for medical research in our community. Now we have a new mission.
We are proud to announce that we have partnered with Health in Sight Mission to support them in their mission of providing eye care for underserved people in Roatán, Honduras. Our own Dr. Paul Kang is on the board of directors for Health in Sight Mission and has traveled to Roatán twice, donating his time, skills, and resources to bettering the eye health of the underserved population. Now we want to do more. We know that our patients in Washington DC are committed to improving the world, just as we are, so we are creating an opportunity for you to help us give back.
For every LASIK procedure performed between July 1st and Labor Day, EDOW will be donating $100 to Health in Sight Mission.
About Health in Sight Mission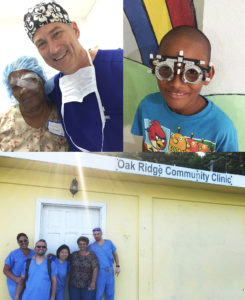 Over 20 years ago, an American ophthalmologist and a nurse in Virginia learned that Roatán was so severely lacking in health care resources that people had no hope of receiving treatment for eye conditions such as cataracts, the world's leading cause of blindness. Health in Sight Mission, formed by a group of volunteers, established the Oak Ridge Clinic in an area of the world that previously never had an established eye care clinic. Many residents of the island of Roatán did not have the funds or ability to travel to mainland Honduras, and therefore had no access to an ophthalmologist. At the Oak Ridge Clinic operated by Health in Sight Mission, people in Roatán can finally get the care they need to treat cataracts and glaucoma, which cause blindness if left untreated.
The Impact of Health in Sight Mission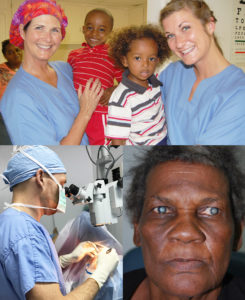 By providing desperately needed eye care, Health in Sight Mission allows patient to live fuller, more fulfilling lives. People who may have previously had very limited opportunity and lowered quality of life due to complications from eye diseases are able to have their sight restored with treatment such as cataract surgery. They also provide reading glasses and prescription eyeglasses to people who may not otherwise have access to them. As a 501(c)3 registered non-profit organization with a team that is passionate about giving back, Health in Sight Mission is doing important work to improve vision. We're proud to say that our very own Dr. Kang and a team of technicians traveled to Roatán in May, where they were able to perform life-changing cataract surgeries, working alongside a wonderful team of volunteers, local eye doctors, and Clinica Esperanza, a low/no-cost clinic providing medical care to the underserved population in Roatán.

The Future of EDOW and Health in Sight Mission
In his new role as a board member of Health in Sight Mission, Dr. Kang has made it his goal to build an eye center in Roatán, and to provide the best care possible to as many people possible, so that no one in Roatán goes without basic eyecare. He plans to accomplish this by leveraging technology: placing machines vital to eye tests in the eye center, training a technician, and virtually diagnosing and treating patients in Roatán from right here in DC. It's an ambitious vision, but it's realistic and will change lives. He hopes to implement many of these services during his next trip planned in March of 2020. Health in Sight Mission already has secured the support of major ophthalmology companies such as Zeiss, Alcon, Johnson and Johnson and New World Medical towards this goal.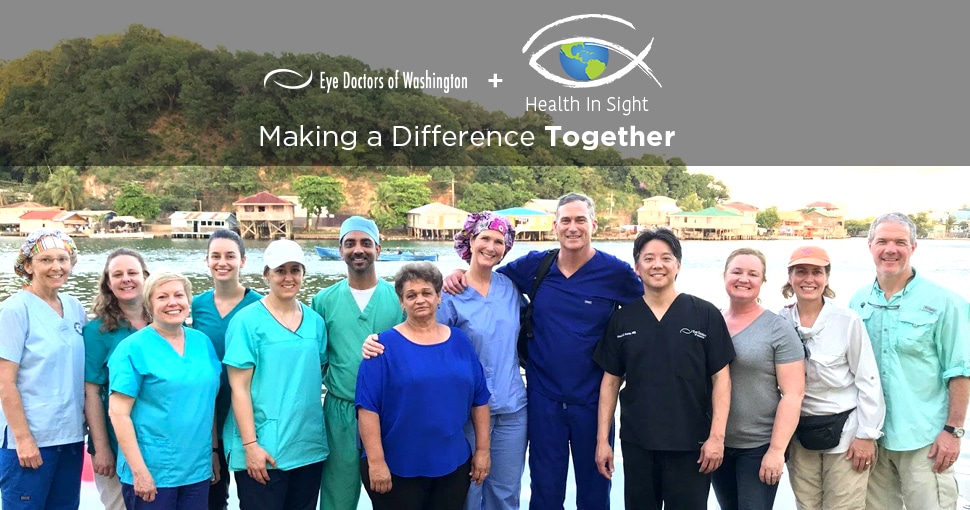 Give the Gift of Better Vision While Improving Your Own!
Have you been considering vision correction surgery to reduce or eliminate your dependence on contact lenses or glasses? Schedule a consultation appointment and have LASIK with the highly experienced LASIK surgeons at EDOW between July 1st and Labor Day and we will donate $100 to Health in Sight Mission!
To learn more about Health in Sight Mission and to donate directly to their cause, visit www.healthinsightministry.org.