Telemedicine
Virtual Eye Care Visits in Washington, DC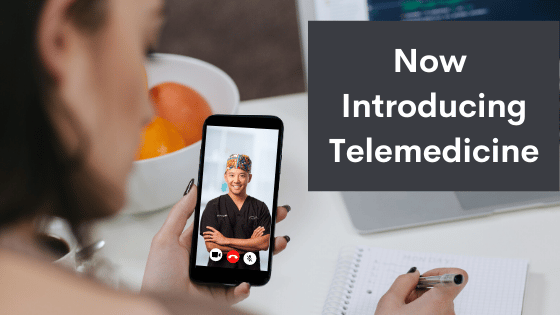 At Eye Doctors of Washington, our goal is to provide superior eye care in a manner that is most comfortable and convenient for our patients. This is why we are pleased to offer virtual eye care visits through our telemedicine services, enabling new and current patients to address non-emergency concerns from the comfort and safety of their homes. Common topics we address during telemedicine eye doctor visits include:
Red eyes (possible conjunctivitis)
Allergies
Lid bumps or swelling (chalazion)
Dry eye
Glaucoma
General eye-care concerns
Virtual LASIK consultations
If you are experiencing any of the above issues, have other non-urgent eye care needs, or are unsure whether your concerns can be addressed during a virtual visit, please feel free to give us a call. A member of our team will be happy to assist you.
What can be accomplished in a telemedicine eye doctor visit?
When it is not possible to physically visit our office, a virtual ophthalmology appointment is a good opportunity for you to discuss your eye care in detail, "face-to-face" with your doctor. During this visit, your doctor will be able to assess your condition, confirm that you are using medications correctly, and address any questions or concerns you might have. In some cases, this could take the place of an in-office visit; in others, we can use this telemedicine visit to determine how soon we need to see you in person.
Virtual LASIK Consultations
At Eye Doctors of Washington, we are passionate about eye care and eager to help our patients begin seeing the world more clearly as soon as possible. If you are interested in laser vision correction, there is no need to wait: we can get started now with a virtual LASIK consultation.
During this virtual LASIK visit, we will be able to:
Answer questions you have about LASIK and laser vision correction
Conduct a preliminary evaluation to see whether you may be a candidate for LASIK
Provide you with a personalized quote for the cost of laser vision correction  
Preparing for your Virtual Eye Care Visit
It's helpful for you to arrive at your online eye doctor appointment prepared so that you're able to make the most of the time allotted for your visit.
How to connect:
For this appointment, you'll need to have Google Hangouts installed on your computer, mobile phone, or tablet. You can download the application here:
What to Have Ready
** To complete this test, wear reading glasses to read the lines on the screen from a distance of 14 inches.
We'll See You Soon!
The health of your eyes and the way you see the world are too important to put off. In many cases, patients who aren't able to visit our offices can maintain quick and convenient access to excellent eye care through a virtual visit with the Eye Doctors of Washington. The team at Eye Doctors of Washington is ready to meet your needs safely through a virtual eye care visit. We look forward to seeing you soon.