UV Safety Month: How to Know if Your Sunglasses Are Protecting You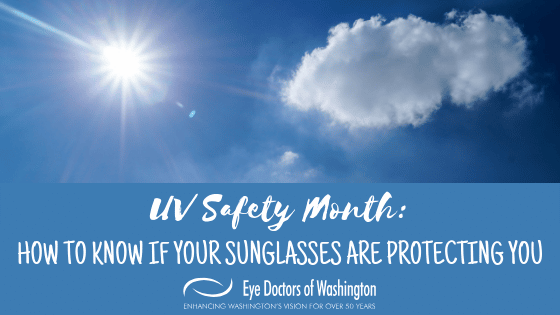 Everything You Need to Know About UV Protection in Sunglasses
Choosing the right sunglasses can be overwhelming. In addition to finding a pair that looks great, your sunglasses should also protect your eyes from harmful UV rays. Are you wearing the right Sunglasses? The experts at Eye Doctors of Washington share everything you need to know about UV protection, polarization, and sunglasses!
Why is UV Protection in Sunglasses Important?
We all know that we shouldn't be staring at the sun… but beyond that, there's a lot of confusion about how to properly protect your eyes from UV damage. For starters, what are UV rays and how do they damage eyes?
The sun emits 3 types of ultraviolet rays, which are categorized by their wavelength: UVA, UVB, and UVC. Short term exposure to ultraviolet rays can cause temporary sunburn of the eyes and skin. Over time, UV exposure can cause permanent damage.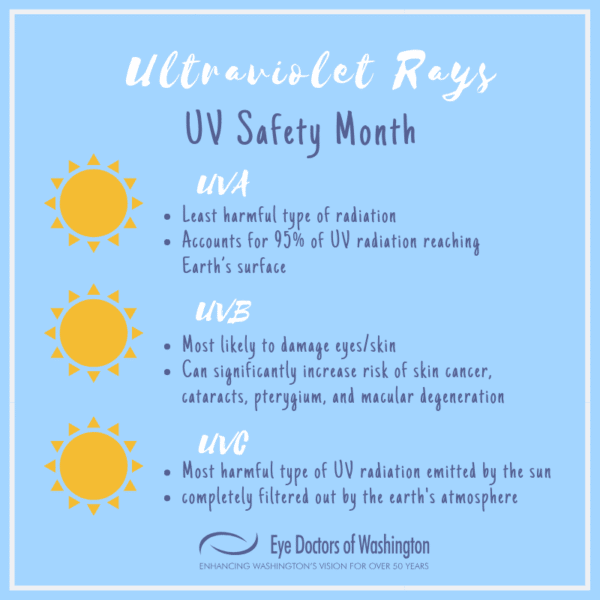 Vision Conditions Caused By Long Term UV Exposure
Cataracts
Macular Degeneration
Skin Cancer Near the Eyes
Pterygium, which is a growth on the cornea that can cause vision loss and is commonly known as "surfer's cataracts
How To Protect Your Eyes From UV Damage
The best thing you can do to protect your eyes and skin from harmful rays is to limit your exposure and protect yourself when you are outside. Some tips from our eye doctors:
Avoid sun exposure during peak UV hours such as 10am-4pm during the summer
Check the UV Index
Wear UV protective clothing
Avoid tanning beds
Wear UV protective sunglasses
Wear 35+ SPF sunscreen
How to Know if Your Sunglasses Are Protecting Your Eyes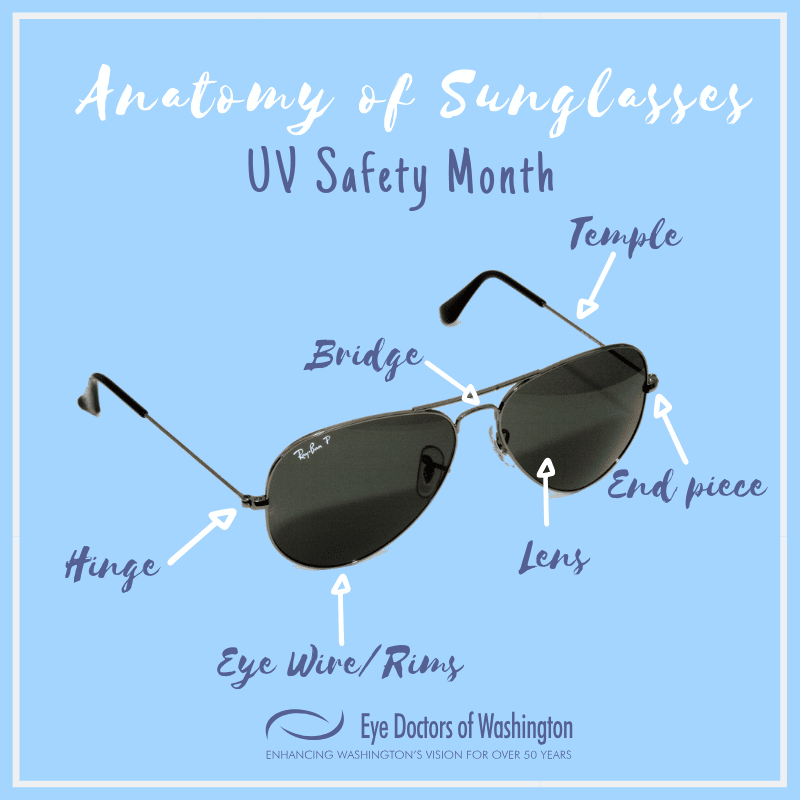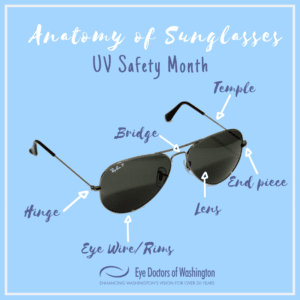 Most sunglasses have the same basic anatomy. But not all sunglasses are created equal. Sunglasses can be UV ray protective or polarized for your protection. Protective properties have varying degrees and it is important to have the right sunglasses for your needs. The numbers on your glasses are your sunglasses measurements, and if you see letters such as CE, that means that your sunglasses conform to the EU standards for UV protection. Look for CE UV 400 Protection to know for sure that your glasses are fully protective!
So how much UV ray protection do your sunglasses need?
The American Optometric Association recommends the use of sunglasses with 99-100% protection from UVA and UVB rays, which screen out 75-90% of visible light. (Source: AOA)
Do you need polarized lenses?
Polarized lenses are most useful for activities that cause reflected glare, such as fishing, snowboarding, or driving. While extremely useful for these activities, they are not suited for looking at LCD screens, such as your car dashboard or your mobile phone.
Eye Doctors of Washington Can Help You Protect Your Vision
Need more guidance on the perfect sun protective frames? Stop by our optical shop at our Washington DC or Chevy Chase office and our optical experts Raul, Luwanna, or Quintin will happily assist you!