Allegretto Wavefront LASIK
Wavefront Optimized® LASIK allows our experienced eye surgeons to correct visual refractive errors, including nearsightedness, farsightedness, and astigmatism. With Wavefront Optimized® LASIK procedures, our patients at Eye Doctors of Washington are typically able to see even better than they could with prescription glasses or contact lenses. The FDA-approved ALLEGRETTO Wavelight® EX500 excimer laser has improved precision, accuracy, comfort, and speed compared to other excimer lasers, in addition to being a virtually pain-free experience for many of our patients. This advanced excimer laser allows our LASIK surgeons to perform your entire all-laser LASIK procedure within fifteen minutes.
Benefits of Wavefront Optimized® LASIK Technology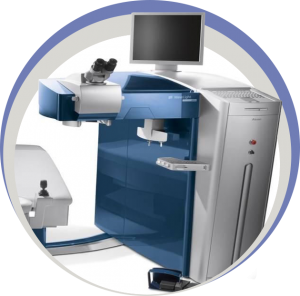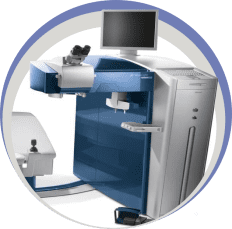 Each LASIK procedure at Eye Doctors of Washington is performed with an all-laser, no-blade technique. Your Custom Wavefront Optimized® LASIK procedure will begin with creating a corneal flap with Alcon's Wavelight® FS200 femtosecond laser system. Then the ALLEGRETTO Wavelight® excimer laser and PerfectPulse Technology™ treatment is then used to reshape the cornea, which will improve your vision. This innovative technology tracks the movement of the eye 200 times per second, allowing extreme precision. As an added safeguard, the laser will automatically shut off if your eye moves outside the laser's range. The ALLEGRETTO Wavelight® excimer laser is the fastest LASIK laser used in the United States, and most procedures take only minutes to perform.
Custom Wavefront Optimized® LASIK Results
After the procedure, most patients will rarely have to depend on glasses or contact lenses. Some patients even experience vision that exceeds 20/20 after Custom Wavefront Optimized® LASIK. To ensure your eyes are recovering properly and that your vision is improved as anticipated, a few follow-up visits will be scheduled with your eye surgeon in the months following your procedure. At that time, only annual eye exams will be required and you can continue to enjoy your new and improved vision.
Schedule a Consultation with Eye Doctors of Washington
Though not all patients are candidates for ALLEGRETTO Wavelight® LASIK, our LASIK surgeons can offer alternatives such as PRK for patients who wish to decrease their dependence on corrective eyewear. To see if you are a candidate for all-laser LASIK procedures, schedule a consultation by contacting Eye Doctors of Washington today.
Related Posts