LASIK Technology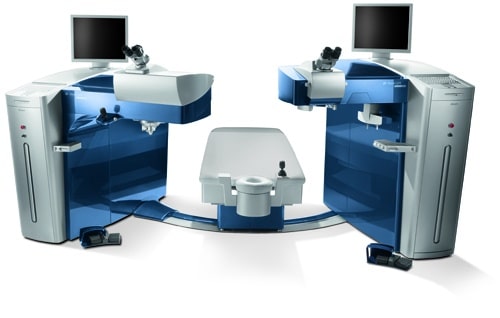 At Eye Doctors of Washington, we invest in the most up-to-date technology in order to provide highly advanced vision correction. Our experienced D.C. LASIK surgeons utilize Alcon's Wavelight® Refractive Suite, including the FS200 femtosecond laser system and EX500 excimer laser, to perform LASIK procedures with increased accuracy and without the need to use a surgical blade.

Blade LASIK Vs. All-Laser LASIK
LASIK was FDA approved in 1996 and originally a blade called a microkeratome was used to create the corneal flap necessary for laser vision correction. While this method is effective, mechanical blades may not be as precisely controlled as a laser, and occasional irregularities have forced eye surgeons to postpone the completion of procedures. In addition, these irregularities could cause permanent visual distortions. At Eye Doctors of Washington, we only perform all-laser, no-blade LASIK because we are committed to patient safety and satisfaction.
Advantages of using a femtosecond laser for blade-free LASIK include:
Improved quality of vision1
Increased precision2
Fewer corneal flap complications3
Virtually painless
Decreased patient anxiety
Faster recovery
WaveLight FS200 Femtosecond Laser
LASIK surgery begins with creating a corneal flap to allows your surgeon to access the cornea and correct refractive errors. At Eye Doctors of Washington, we use the WaveLight FS200 Femtosecond Laser, which is computer-guided to increase the accuracy and precision of the flap creation. Using this advanced laser, your surgeon can create a standard corneal flap in an average time of just six seconds.
Allegretto Wavefront Optimized® LASIK With Wavelight EX500
The FDA-approved ALLEGRETTO Wavelight EX500 excimer laser has improved accuracy, comfort, and speed when compared to other excimer lasers.4 This innovative technology tracks the movement of the eye 200 times per second, allowing extreme precision.5 As an added safeguard, the laser will automatically shut off if your eye moves outside the laser's range. The ALLEGRETTO Wavelight excimer laser is the fastest LASIK laser used in the United States, and most procedures take only minutes to perform.6 This laser provides a relatively quick, virtually pain-free experience for many of our patients.
Contoura™ Topography-Guided Laser Vision Correction
One of the latest technological advancements in the field of ophthalmology is the introduction of FDA-approved topography-guided laser vision correction, also known as Contoura Vision. This revolutionary technique, which can be used with our innovative ALLEGRETTO Wavelight EX500 excimer laser, allows for vision correction that is more precise than ever before. With this new technology, the imperfections, curvature, and the optics of the cornea can all be measured and recorded. Over 90% of Contoura patients were able to achieve vision better than 20/20.7
Custom LASIK in Washington D.C.
You are unique and so are your vision needs. Even though the LASIK surgeons at Eye Doctors of Washington have performed over 50,000 LASIK procedures, they remain dedicated to providing personalized care. Our advanced technology allows us to fully customize your LASIK procedure for precise, effective vision correction that can significantly improve your vision. You can take our LASIK Self-Test to see if All-Laser, Custom LASIK may be right for you.
Schedule Your Consultation Online with Eye Doctors of Washington
For more information on all-laser LASIK procedures, or to schedule a LASIK consultation online with one of our vision care specialists, please contact Eye Doctors of Washington today.
---
1 Tanzer D. Blade vs. Laser: Is There a Difference in Outcomes? Review of Ophthalmology. Available: https://www.reviewofophthalmology.com/article/blade-vs-laser-is-there-a-difference-in-outcomes Accessed October 28, 2019.
2Durrie, DS, Kezirian GM. Femtosecond laser versus mechanical keratome flaps in wavefront-guided laser in situ keratomileusis: prospective contralateral eye study. J Cataract Refract Surg. 2005;31(1):120-126.
3American Academy of Ophthalmology. Creating LASIK Flaps: Femtosecond Laser vs. Mechanical Microkeratome. Available: https://www.aao.org/current-insight/creating-lasik-flaps-femtosecond-laser-vs-mechanic Accessed October 28, 2019.
4Cummings A. Innovations in excimer laser refractive technology – focus on the WaveLight EX500 Excimer Laser System. European Ophthalmic Review. 2010;4:44-46. 2.
5 Winkler von Mohrenfels C, Khoramnia R, Lohmann CP. Comparison of different excimer laser ablation frequencies (50, 200, 500 Hz). Graefes Arch Clin Exp Ophthalmol. 2009;247: 1539-1545.
6Khoramnia R, Lohmann CP, Wuellner C, Kobuch KA, Donitzky C, Winkler von Mohrenfels C. Effect of 3 excimer laser ablation frequencies (200 Hz, 500 Hz, 1000 Hz) on the cornea using a 1000 Hz scanning-spot excimer laser. J Cataract Refract Surg. 2010;36:1385-1391. 2010 ASCRS and ESCRS.
7 Results from FDA T-CAT-001 Clinical Study. Available: https://www.myalcon.com/professional/refractive-surgery/wavelight-t-cat-study/clinical-study-results Accessed October 28, 2019.