All Laser No-Blade LASIK
At Eye Doctors of Washington, our experienced LASIK surgeons use the latest laser vision correction technology and techniques available. Alcon's Wavelight® Refractive Suite, the FS200 femtosecond laser system, and excimer laser allow our experienced laser eye surgeons to perform LASIK procedures with increased accuracy and without the need to use a surgical blade. These advanced LASIK methods can provide precise, effective correction for refractive errors with results that help patients significantly improve their vision.
A Brief History of LASIK
Traditional LASIK procedures relied on a microkeratome (a blade) to create the corneal flap necessary for laser vision correction. While this method is effective, these mechanical blades could not be as precisely controlled as a laser, and occasional irregularities forced eye surgeons to postpone the completion of the procedure. In addition, these irregularities could cause permanent visual distortions. New all-laser, no-blade LASIK procedures can address these concerns.
Benefits of All-Laser LASIK
Our doctors have found that bladeless, all-laser LASIK offers many advantages over traditional LASIK procedures, including:
Increased precision to create corneal flap
Improved safety and risk reduction
Significantly decreased irregularities
Faster procedure time
Virtually painless
Decreased patient anxiety
Faster recovery
Improved quality of vision
All-Laser LASIK Procedure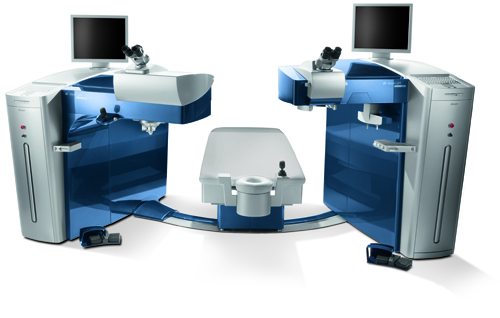 In order to achieve vision correction of refractive errors, our laser eye surgeons need to reshape the cornea. LASIK surgery begins with creating a corneal flap with the FS200 femtosecond laser to allow access to the cornea. Since the FS200 femtosecond laser is computer-guided, the accuracy and precision of the flap creation is maximized and usually takes only six seconds to complete. After the corneal flap is created, a second laser (the excimer laser) reshapes the cornea. This laser has shown to be extremely precise and fast, and the majority of LASIK procedures require only a few seconds to reshape the cornea of each eye.
All-Laser LASIK Results
Dr. Thomas E. Clinch and Dr. Paul C. Kang perform all LASIK procedures at Eye Doctors of Washington with all-laser techniques. After your LASIK procedure, refractive errors such as nearsightedness, farsightedness, and astigmatism can be dramatically reduced or eliminated. Vision correction with all-laser LASIK is often significant enough to dramatically minimize the need for glasses or contact lenses, or even eliminate that need altogether.
Schedule a Consultation with Eye Doctors of Washington
For more information on all-laser LASIK procedures, or to schedule a consultation with one of our vision care specialists, please contact Eye Doctors of Washington today.
Related Posts