Laser Vision Correction Risks
At Eye Doctors of Washington, all of our laser eye surgeons are fellowship-trained and highly experienced with our vision correction and cataract surgery procedures. We also use only the most state-of-the-art, FDA-approved laser technology with the goal of providing our patients with the safest, most effective procedure possible. However, as with any type of surgery, there are risks involved. No matter how rare certain complications may occur, and no matter how slight the degree of risk, all patients should have a thorough understanding of the possibilities before they elect to undergo any type of laser vision correction procedure, including LASIK, PRK, or CATALYS® Precision Laser System Cataract Surgery.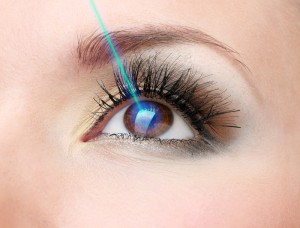 The following information will provide you with some details on the risks and potential complications involved with some of our laser refractive surgery and laser cataract surgery treatments. Our doctors will make every effort to minimize these risks and provide you with a smooth procedure and effective results. We will also thoroughly discuss these risks and the potential for complications with you before you decide to have the surgery, and answer all of your questions.
LASIK and PRK Vision Correction Risks and Information
Although rare, some potential complications and risks associated with LASIK and PRK vision correction include:
Over- or under-correction of vision
Severe dry-eye syndrome
Vision results may reduce with age
Possible loss of certain lines of vision after surgery that does not improve with corrective eyewear or additional surgical treatment
Patients who have large refractive errors may not experience the same degree of improvement when compared with patients with smaller refractive errors
Device malfunction during surgery
Infection or inflammation, which can ultimately lead to temporary or even permanent vision loss
There is no guarantee of perfect vision
Patients who are around the age of 45 may still need to wear reading glasses, even if they have LASIK to improve distance vision
Insurance does not typically cover laser vision correction surgery
Additional surgery may be necessary to achieve the most optimal results
Laser Cataract Surgery Risks
While the CATALYS® Precision Laser System Cataract Surgery laser allows for a more gentle and precise type of cataract surgery when compared to traditional methods, there are still potential risks during and after the procedure. Although complications are rare, patients should be aware of all risks before deciding to have laser cataract surgery. These include:
Infection
Increased eye pressure during the laser procedure
Scratching or irritation of the eye's surface
Temporary red marks on the white part of the eye
Our doctors will go over all risks and potential complications from laser cataract surgery and address any concerns you may have.