Custom PRK
At Eye Doctors of Washington, we offer PRK refractive surgery to patients from Washington, DC, Bethesda, Chevy Chase, Northern Virginia, and surrounding areas. If you are interested in learning more about PRK surgery, view the information on this page or contact Eye Doctors of Washington to schedule a consultation.
History of PRK
PRK was the first type of refractive surgery approved by the FDA using the excimer laser. FDA approval occurred in 1995 and now includes the correction of myopia (nearsightedness), hyperopia (farsightedness), and astigmatism. Recently, Wavefront Optimized® PRK was also approved for refractive surgery.
EDOW surgeons in Washington, DC, and Maryland were involved as principal investigators in clinical trials for the approval process of PRK surgery and have offered laser vision correction for almost a decade.
PRK Today

PRK surgery is the procedure of choice for patients who have thin corneas, dry eyes, fragile epithelial (surface) cells, unusually shaped corneas. PRK is also often the refractive surgery of choice for military personnel and some professional athletes because there is no corneal flap.
While PRK surgery has a very high success rate for our Washington, DC, and Maryland area patients, it has been supplanted by LASIK for the following reasons:
Faster visual recovery
Less discomfort
PRK uses an excimer laser to change the shape of the cornea (the transparent front surface of the eye). PRK combines state-of-the-art computer technology with advanced laser precision. The excimer laser creates high-energy pulses of ultraviolet light energy lasting billionths of a second to remove 0.25 microns of tissue. The laser is so accurate that it can sculpt a pattern on a human hair. Wavefront Optimized® analysis is used to guide PRK surgery, creating the most accurate refractive surgery results possible.
Preoperative Testing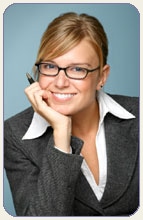 At Eye Doctors of Washington, Drs. Clinch and Kang offer complimentary consultations to determine your candidacy for PRK surgery or alternative refractive surgery procedures. These consultations are available at both our Washington, DC and Chevy Chase, Maryland offices, and they last about one hour. Your eyes will not be dilated and you do not need to discontinue wearing your contact lenses before this appointment.
Once our doctors determine that you are a good candidate for PRK surgery, you will schedule a preoperative exam in our Chevy Chase office. During this exam, your eyes will be dilated and our technicians will perform an array of diagnostic tests to gather all the data they need to develop the best possible surgical treatment plan.
Please Note: If you are a contact lens wearer, you must refrain from wearing contact lenses before this exam:
Soft lenses – 1 week before your exam
Toric lenses – 2 weeks before your exam
Hard or gas permeable lenses – 3 weeks for every decade of wear
Once you have completed your preoperative exam, you can have PRK surgery as soon as the following week! We ask that you arrive 30 minutes before your scheduled PRK surgery appointment, and you should plan to be in our office for an hour and a half that day.
PRK Eye Surgery
To get you prepared for PRK on the day of surgery, a technician will bring you into an exam room. They will review the PRK refractive surgery procedure and the postoperative instructions. Valium will be dispensed to reduce any anxiety about the pending procedure. The technician will then prepare your eyes by cleaning your eyelids and instilling a series of drops.
When your name is called by the surgical technician, you will be brought into the laser suite. With your permission, family or friends may view the procedure through the window. The technician will settle you in the comfortable reclining surgical chair.
Reshaping the Cornea Using Wavefront Optimized® Technology
Just like in Wavefront Optimized® LASIK, a WaveScan™ is used to map out the particular characteristics of your cornea in preparation for Wavefront Optimized® PRK refractive surgery. This map scans the cornea and creates a unique "fingerprint" of your visual system. Wavefront Optimized® technology measures imperfections in your eyes 25 times more precisely than the method used to obtain your glasses or contact lens prescription. As a result, many patients who undergo Custom PRK surgery see better than they saw with glasses or contacts. For several years, the surgeons at Eye Doctors of Washington have been invited to hold instructional courses on this topic at the annual American Academy of Ophthalmology meeting.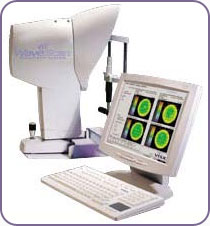 On the day of your PRK surgery, which is offered at our office in Chevy Chase, Maryland, convenient to the Washington, DC area, the data from the WaveScan™ is inserted into the laser with your unique Wavefront Optimized® treatment. Reducing or eliminating higher order aberrations has improved the outcomes of PRK surgery. In fact, 98 percent of patients who participated in the Wavefront Optimized® clinical trials saw 20/20 or better at their three month visit following surgery. Dr. Clinch had Wavefront Optimized® IntraLase LASIK and now sees better than 20/15!
During PRK refractive surgery, your job is simply to look at the red light. Many patients are anxious that moving during the PRK procedure will impair the results. While it is important to stay as still as possible, there are many safety features built into the laser to improve the treatment:
The Wavefront Optimized® laser tracks the movements of your eyes 200 times per second. If your eye moves outside of the range that the laser can track, the laser will simply shut off. When your eyes are again centered, the laser will pick up where it left off and continue your treatment.
Some patients wonder how they will keep their eyes open during the entire procedure without blinking. The good news is that you don't have to. During PRK surgery, an instrument is used to keep your eyelids open for you.
The actual critical time that the laser is doing the treatment usually lasts between 30 and 60 seconds!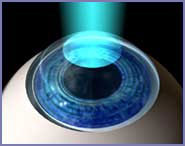 After the treatment, a bandage contact lens is placed in each eye to facilitate healing and comfort (The lens is clear, has no prescription in it, and is removed by our office four days after surgery). At this point, you will be free to go home. Be sure someone is present to take you home since you may be a little sleepy from the Valium and blurry from the PRK eye surgery procedure. Be sure to begin using your post-operative drops as soon as you get home.
You will be seen the day after your PRK surgery as well as the following Monday, at one week, one month, and three months. At that point, most patients are told to simply return for annual exams. If you have any questions or concerns during the recovery process following PRK refractive surgery, you are also welcome to contact our offices in Washington, DC, or Chevy Chase, Maryland.
Recovery
Complete visual recovery will require weeks to months depending on the level of pre-existing refractive error. In particular, for the first five days following PRK surgery, patients should expect their vision to be very blurry. Eye drops are used for two to three months and are gradually tapered over the convalescence period. Preservative free artificial tears are also used on a frequent basis to lubricate the eye.
Results
The success of refractive surgery in eliminating the need for contacts and glasses is excellent. In general, patients who have PRK surgery when compared to patients who have LASIK have a very similar visual outcome. The main difference is that with PRK, the road to recovery is longer and more uncomfortable.
To learn more about PRK or other refractive surgery, contact Eye Doctors of Washington, with locations in Washington, DC, and Maryland.
Click Here for a Chance to Win $1000 OFF LASIK
Related Pages