See a Brighter Future: What You Need to Know this Cataract Awareness Month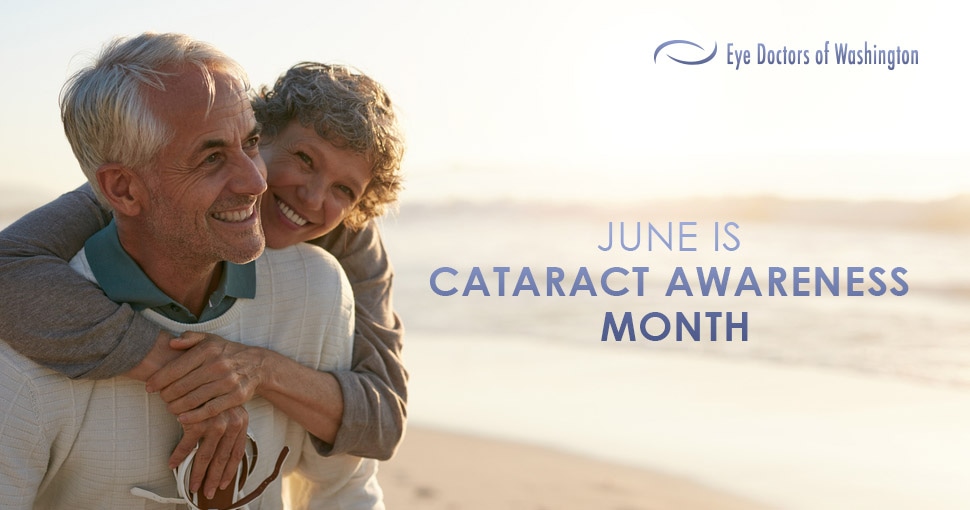 June is Cataracts Awareness Month and the vision experts and cataract surgeons at Eye Doctors of Washington would like to share some knowledge about this common vision condition. Cataracts are the world's leading cause of blindness, but we'll tell you how you can decrease your risk of developing cataracts, how to recognize the symptoms of cataracts, and how we can help you if you need cataract treatment.
With 50 million Americans projected to develop cataracts by 2050, it is crucial to understand the risk factors, symptoms, and treatment options for cataracts.
(Source: American Academy of Ophthalmology)
Facts and Myths About Cataracts
Cataract FACT: Cataracts affect 22 million people in the United States alone.
Age is a major risk factor for cataracts. As medical advances that allow for longer lives, life expectancy goes up, and so does one's risk of developing cataracts. Fortunately, effective treatment is widely available in the U.S.
(Source: American Academy of Ophthalmology)
Cataract FACT: Cataracts are not reversible.
Glasses and contact adjustments can help patients cope with the initial symptoms of cataracts, but will not stop the progression of cataracts. Once cataracts significantly affect vision, cataract surgery is the only effective treatment.
Cataract FACT: More than half of people over 80 have cataracts.
Cataracts affect over half of people 80 and older. More surprising to some is that they affect 1 in 6 people over the age of 40. If you think you're too young for cataracts, think again!
(Source: American Academy of Ophthalmology)
Cataract MYTH: Cataracts only affect older people.
Though age-related cataracts are most common, cataracts can also develop due to eye trauma or genetic predisposition.
Cataract MYTH: Cataracts grow back.
Cataract surgery removes the eye's natural lens and replaces it with an artificial lens. Though it is possible for secondary cataracts to form, once a clouded lens is replaced, the cataract will not "grow back".
Cataract MYTH: Cataract surgery is dangerous.
Any procedure carries some risk, but cataract surgery is one of the most commonly performed surgeries and has a very high success rate and very low complication rate. In fact, the mortality rate for patients who choose to undergo cataract surgery is 40% lower than individuals who choose not to undergo surgery for their cataracts.
(Source: American Academy of Ophthalmology)
Cataract MYTH: Cataract surgery is too expensive.
With technological advances and increased demand, cataract surgery has decreased in price by 85% since 1985. At EDOW, our experienced staff with work with you to determine your insurance coverage for cataract surgery and explain payment options for out-of-pocket costs.
(Source: American Academy of Ophthalmology)
Risk Factors for Cataracts
While there is no single discernible cause of cataracts, there are many lifestyle and environmental considerations that are known to increase the risk of developing cataracts. Risk factors for cataracts include:
Exposure to UV rays
Smoking
High volumes of alcohol consumption
Obesity
Diabetes
Eye injury
Eye surgery
Use of certain medications
Hormone replacement therapy
Genetics
If you or your eye doctor identify any of these risk factors in your life, you should carefully monitor your eye health. Get regular eye exams, wear UV protective sunglasses, and pay close attention to any changes in your vision. Your eye health may also may benefit from vitamins and nutrients like vitamin C, E, lutein, and zeaxanthin, which have been suggested to reduce risk and slow the development of cataracts.
I have cataracts, now what?
As our experienced eye doctors will explain during your consultation appointment or annual exam, you don't need to rush into cataract surgery. The goal of cataract surgery is to improve your quality of life. Ask yourself, "Are cataracts keeping me from living my best life?"
If your cataracts prevent you from driving, engaging in hobbies like gardening, photography, knitting, crafting, building models, or staying active, then it's time to talk to your eye doctor about your cataract treatment options.
Schedule an appointment with Eye Doctors of Washington and our cataract specialists and support staff will talk you through preoperative testing, laser cataract surgery, aftercare, and any questions you may have. See just a few of our happy cataract patient experiences below!
Testimonials From EDOW Cataract Surgery Patients
"I was told by my wonderful optometrist, that I was a candidate for cataract surgery. When I asked whom to go to, he explained that he himself had had his cataract surgery done by Dr. Clinch. I'm a firm believer in getting second opinions regarding medical issues, so I checked with a friend who sells medical lasers all over the country. He knew of this practice and said it is one of "The Best" and was confident I would get superb care. From the initial telephone contact, I was pleased. The front desk people are efficient and were more than willing to help people check in at the kiosks.
The techs who take photographs and do various procedures were all personable and answered any questions I had about what they were doing. I have very dissimilar eyes, and I appreciated a point Dr. Clinch made: He said he could promise me better vision, although he could not promise perfect vision. That didn't surprise me BUT I now have 20/20 vision and zero astigmatism!
I am so grateful that this doctor is thorough, meticulous, and knows how to communicate with warmth and compassion. The booklet with all the instructions and charts for drops was a big help. It is the clearest "after care plan" I have ever been given.
I am so grateful to Dr. Clinch. I enjoyed every step of the way, including the two procedures/operations. The day after my second eye was done, I was able to see all the tiny numbers on the crossword puzzle and I can read all the ridiculous fine print of the list of ingredients on makeup boxes!"
-Pamela on Yelp
"Can't think of a better way to experience two cataract surgeries! Dr. Clinch was simply outstanding on all fronts: pre-op, op and post-op! Kept me fully informed all the time and provided clear explanations to all of my questions. The results were outstanding!! 20/20 vision for long and medium distances with no astigmatism. How beautiful the world seems now! I should also make a special mention for Jon Aguilera who managed all the paperwork for these two operations in an outstanding manner! All technicians and secretarial staff of EDOW matched the excellence of Dr. Clinch and Jon. What a superbly pleasant experience! VERY HIGHLY RECOMMENDED!"
– John on Yelp
"I'm so happy with the service Dr. Kang provided for my mother. Excellent Doctor, he explained everything in detail. All my questions were answered. Highly recommend him and his amazing staff."
-Jannette on Google
"Dr. Paul Kang from Eye Doctors of Washington (Vienna) is amazing! I developed a cataract and Dr. Kang did an excellent job performing the surgery, which was tricky because I had a detached retina in that eye. He later performed cataract surgery for my other eye. Each time, he explained the procedure and answered all my questions; everything went smoothly; and the surgery was a total success. I highly recommend Dr. Kang for both his skill and his helpful attitude."
-Pam on Yelp
Cataract Treatment in Washington, D.C.
Have more questions about cataract symptoms or treatments? Read our most frequently asked cataract questions and answers, or schedule an appointment today!