Am I At Risk For Glaucoma?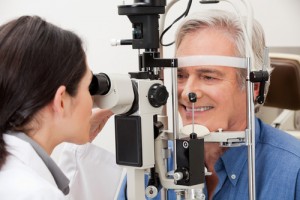 Glaucoma is a serious disease that affects millions of Americans and, if left untreated, can eventually lead to blindness. The disease is also genetic, and unfortunately there is no way to preemptively treat it. As a result, it is particularly important for patients who have a family history of glaucoma or additional high-risk factors to see their eye doctor regularly.
Although an ophthalmologist cannot prevent glaucoma from manifesting, frequent appointments with an eye care specialist will increase the likelihood of early detection. Regular evaluations will allow an early diagnosis for glaucoma should you develop the disease – and the main advantage of an early diagnosis is prompt treatment. In addition to genetic factors, patients who have undergone previous ocular surgery (aside from routine cataract surgery) also have a higher risk of developing glaucoma and should be as vigilant with glaucoma screenings. By establishing a baseline with your ophthalmologist and treating glaucoma in the initial stages, you can avoid complications such as significant visual dysfunction that go along with advanced stages of the disease.
Contact Eye Doctors of Washington
To learn more about glaucoma and glaucoma treatment methods, please contact us today to schedule a consultation.