Washington, DC Eye Doctor First in Area to Place CyPass Glaucoma Implant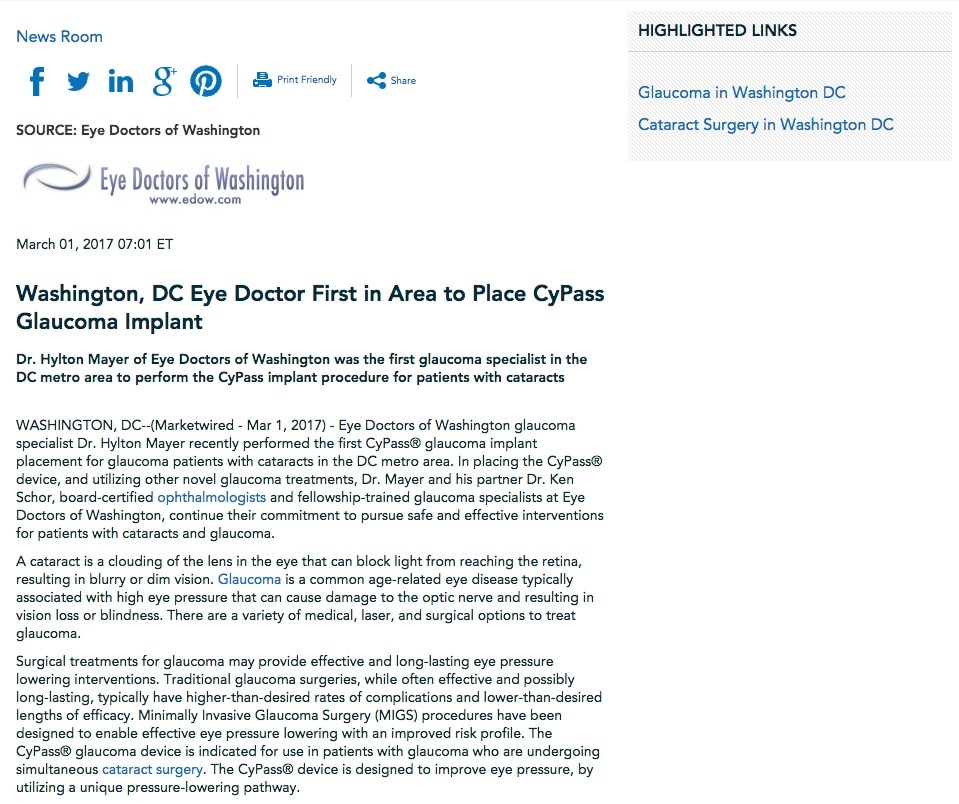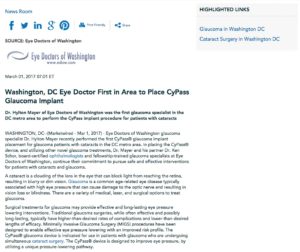 Dr. Hylton Mayer of Eye Doctors of Washington was the first glaucoma specialist in the DC metro area to perform the CyPass implant procedure for patients with cataracts.
Eye Doctors of Washington glaucoma specialist Dr. Hylton Mayer recently performed the first CyPass® glaucoma implant placement for glaucoma patients with cataracts in the DC metro area. In placing the CyPass® device, and utilizing other novel glaucoma treatments, Dr. Mayer and his partner Dr. Ken Schor, board-certified ophthalmologists and fellowship-trained glaucoma specialists at Eye Doctors of Washington, continue their commitment to pursue safe and effective interventions for patients with cataracts and glaucoma.
A cataract is a clouding of the lens in the eye that can block light from reaching the retina, resulting in blurry or dim vision. Glaucoma is a common age-related eye disease typically associated with high eye pressure that can cause damage to the optic nerve and resulting in vision loss or blindness. There are a variety of medical, laser, and surgical options to treat glaucoma.
Surgical treatments for glaucoma may provide effective and long-lasting eye pressure lowering interventions. Traditional glaucoma surgeries, while often effective and possibly long-lasting, typically have higher-than-desired rates of complications and lower-than-desired lengths of efficacy. Minimally Invasive Glaucoma Surgery (MIGS) procedures have been designed to enable effective eye pressure lowering with an improved risk profile. The CyPass® glaucoma device is indicated for use in patients with glaucoma who are undergoing simultaneous cataract surgery. The CyPass® device is designed to improve eye pressure, by utilizing a unique pressure-lowering pathway.
Drs. Mayer and Schor strive to utilize their expertise and experience to maintain and restore visual health for patients with cataracts and glaucoma. They offer a wide range of state-of-the-art medical, laser, and surgical options—including a variety of Minimally Invasive Glaucoma Surgeries (MIGS)—to provide patients with individualized cataract and glaucoma care.
Read more about Cataract Surgery and Minimally Invasive Glaucoma Surgeries at edow.local/glaucoma
About Eye Doctors of Washington
Eye Doctors of Washington is composed of a highly experienced team of optometrists and ophthalmologists. The practice has been providing academically focused eye care in the DC metropolitan area for more than 50 years, offering a comprehensive array of treatment options. The doctors have advanced expertise in a wide range of specialties, including glaucoma, cataracts, LASIK, conditions related to the cornea, and much more. They are available for interview upon request.
To learn more about Eye Doctors of Washington, visit edow.com.
Contact:
Eye Doctors of Washington
(301) 215-7100
Toll Free: 877- SEE WITH LASIK
Chevy Chase – Wisconsin Avenue:
Chevy Chase Metro Building at Wisconsin and Western Avenues
2 Wisconsin Circle, Suite 230
Chevy Chase, MD 20815
Chevy Chase – North Park Avenue:
4600 North Park Ave.
Plaza North
Chevy Chase, MD 20815
Washington, DC – 16th Street NW:
1016 16th Street NW
Lower Level 100
Washington, DC 20036
Northern Virginia – Tysons Corner:
8230 Boone Blvd, Suite 125
Vienna, VA 22182
Washington, DC – Foxhall Square:
3301 New Mexico Ave NW, Suite 216
Washington, DC 20016