Washington, DC Eye Doctors to Donate Glasses to Developing Countries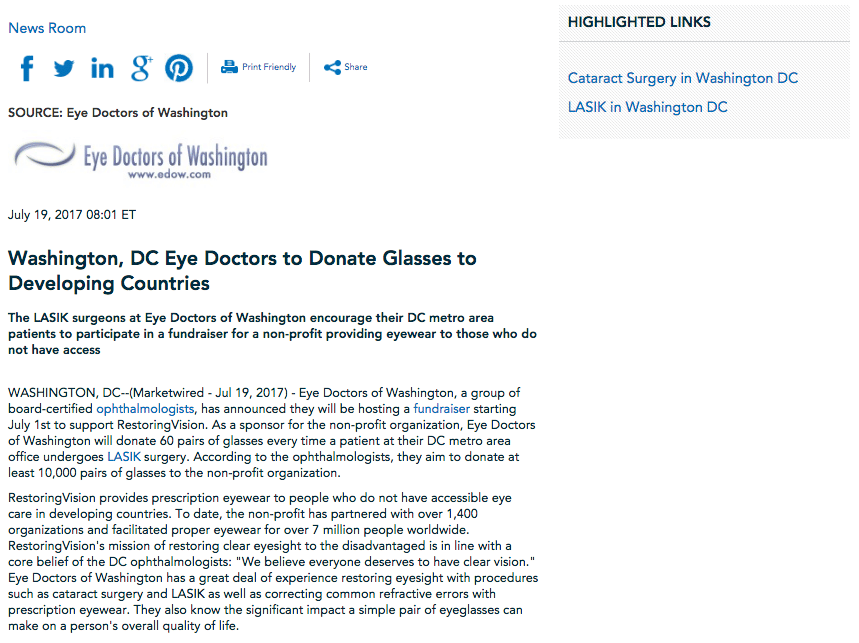 The LASIK surgeons at Eye Doctors of Washington encourage their DC metro area patients to participate in a fundraiser for a non-profit providing eyewear to those who do not have access.
Washington, DC—Eye Doctors of Washington, a group of board-certified ophthalmologists, has announced they will be hosting a fundraiser starting July 1st to support RestoringVision. As a sponsor for the non-profit organization, Eye Doctors of Washington will donate 60 pairs of glasses every time a patient at their DC metro area office undergoes LASIK surgery. According to the ophthalmologists, they aim to donate at least 10,000 pairs of glasses to the non-profit organization.
RestoringVision provides prescription eyewear to people who do not have accessible eye care in developing countries. To date, the non-profit has partnered with over 1,400 organizations and facilitated proper eyewear for over 7 million people worldwide. RestoringVision's mission of restoring clear eyesight to the disadvantaged is in line with a core belief of the DC ophthalmologists: "We believe everyone deserves to have clear vision." Eye Doctors of Washington has a great deal of experience restoring eyesight with procedures such as cataract surgery and LASIK as well as correcting common refractive errors with prescription eyewear. They also know the significant impact a simple pair of eyeglasses can make on a person's overall quality of life.
The LASIK surgeons at Eye Doctors of Washington hope that patients who have been considering laser vision correction will take advantage of this fundraiser and help the practice meet their donation goal. To further encourage patients to participate in this fundraiser, Eye Doctors of Washington is offering a special $400 discount from the total price of LASIK. The eye doctors are happy for the opportunity to give back and hope their contributions aid RestoringVision in meeting their goal of helping 20 million people improve their eyesight by the end of 2020.
About Eye Doctors of Washington
Eye Doctors of Washington has been providing academically focused eye care in the DC metropolitan area for more than 50 years. The practice is composed of a highly experienced team of optometrists and ophthalmologists who offer a comprehensive array of treatment options. The diverse team of doctors at EDOW have advanced expertise in a wide range of specialties, including cataracts, LASIK, glaucoma, conditions related to the cornea, and many more. The doctors are available for interview upon request.
To learn more about Eye Doctors of Washington, visit edow.com.
Contact:
Eye Doctors of Washington
(301) 215-7100
Toll Free: 877- SEE WITH LASIK
Chevy Chase – Wisconsin Avenue:
Chevy Chase Metro Building at Wisconsin and Western Avenues
2 Wisconsin Circle, Suite 230
Chevy Chase, MD 20815
Chevy Chase – North Park Avenue:
4600 North Park Ave.
Plaza North
Chevy Chase, MD 20815
Washington, DC – 16th Street NW:
1016 16th Street NW
Lower Level 100
Washington, DC 20036
Northern Virginia – Tysons Corner:
8230 Boone Blvd, Suite 125
Vienna, VA 22182