Washington, DC Ophthalmologists Announce Availability of Topography-Guided Laser Vision Correction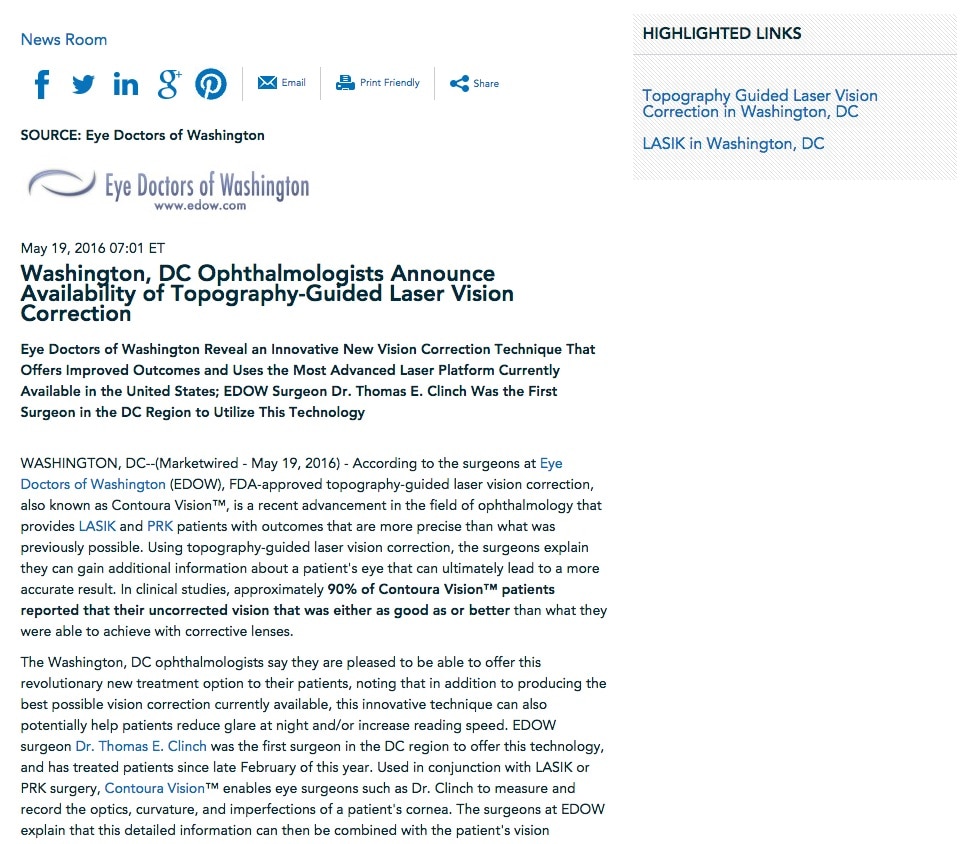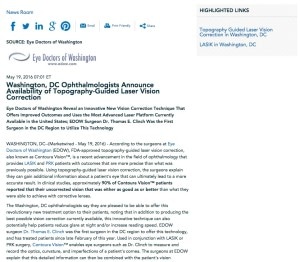 Eye Doctors of Washington reveal an innovative new vision correction technique that offers improved outcomes and uses the most advanced laser platform currently available in the United States; EDOW surgeon Dr. Thomas E. Clinch was the first surgeon in the DC region to utilize this technology.
Washington, DC — According to the surgeons at Eye Doctors of Washington (EDOW), FDA-approved topography-guided laser vision correction, also known as Contoura Vision™, is a recent advancement in the field of ophthalmology that provides LASIK and PRK patients with outcomes that are more precise than what was previously possible. Using topography-guided laser vision correction, the surgeons explain they can gain additional information about a patient's eye that can ultimately lead to a more accurate result. In clinical studies, approximately 90% of Contoura Vision™ patients reported that their uncorrected vision that was either as good as or better than what they were able to achieve with corrective lenses.
The Washington, DC ophthalmologists say they are pleased to be able to offer this revolutionary new treatment option to their patients, noting that in addition to producing the best possible vision correction currently available, this innovative technique can also potentially help patients reduce glare at night and/or increase reading speed. EDOW surgeon Dr. Thomas E. Clinch was the first surgeon in the DC region to offer this technology, and has treated patients since late February of this year. Used in conjunction with LASIK or PRK surgery, Contoura Vision™ enables eye surgeons such as Dr. Clinch to measure and record the optics, curvature, and imperfections of a patient's cornea. The surgeons at EDOW explain that this detailed information can then be combined with the patient's vision prescription to create a quality of vision that is better than what can be accomplished with any other vision correction method on the market.
Candidates for topography-guided laser vision correction must be at least 18 years old, and must have a stable prescription. The surgeons at EDOW encourage anyone who is interested in this new, state-of-the-art technique to schedule a consultation with a skilled and experienced ophthalmologist who offers Contoura Vision™ in order to find out if they qualify for the new PRK and LASIK enhancement.
About Eye Doctors of Washington
Offering a comprehensive array of eye care treatment options, Eye Doctors of Washington (EDOW) is comprised of a team of both ophthalmologists and optometrists. With five office locations, EDOW has served patients in the Washington, DC metropolitan area for over 50 years. Founded by professors from the Center for Sight at Georgetown University, the physicians at EDOW put a strong emphasis on academically oriented care and staying up to date with the latest advancements in technology and treatments.
To learn more about Eye Doctors of Washington, visit edow.com. The doctors at EDOW are available for interview upon request.
Contact:
Eye Doctors of Washington
Chevy Chase – Wisconsin Avenue:
Chevy Chase Metro Building at Wisconsin and Western Avenues
2 Wisconsin Circle, Suite 230
Chevy Chase, MD 20815
(301) 215-7100
Toll Free: 877- SEE WITH LASIK
Chevy Chase – North Park Avenue:
4600 North Park Ave.
Plaza North
Chevy Chase, MD 20815
(240) 855-0720
Washington, DC – 16th street NW:
1016 16th Street NW
Lower Level 100
Washington, DC 20036
(202) 659-2050
Toll Free: 877- SEE WITH LASIK
Northern Virginia – Tysons Corner:
8230 Boone Blvd, Suite 125
Vienna, VA 22182
(703) 962-7104
Washington, DC – Foxhall Square:
3301 New Mexico Ave NW, Suite 216
Washington, DC 20016
(202) 237-2451