Washington, DC Ophthalmologists Offer Revolutionary Keratoconus Treatment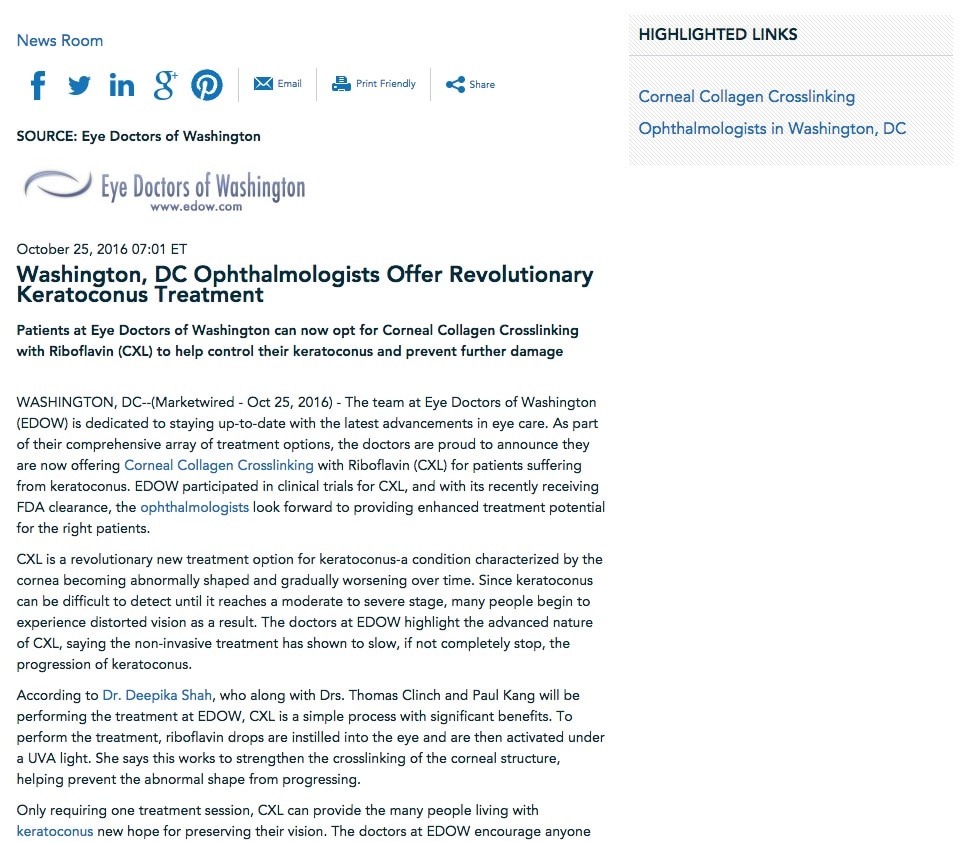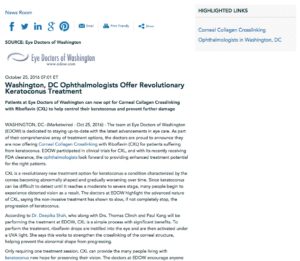 Patients at Eye Doctors of Washington can now opt for Corneal Collagen Crosslinking with Riboflavin (CXL) to help control their keratoconus and prevent further damage.
Washington, DC — The team at Eye Doctors of Washington (EDOW) is dedicated to staying up-to-date with the latest advancements in eye care. As part of their comprehensive array of treatment options, the doctors are proud to announce they are now offering Corneal Collagen Crosslinking with Riboflavin (CXL) for patients suffering from keratoconus. EDOW participated in clinical trials for CXL, and with its recently receiving FDA clearance, the ophthalmologists look forward to providing enhanced treatment potential for the right patients.
CXL is a revolutionary new treatment option for keratoconus—a condition characterized by the cornea becoming abnormally shaped and gradually worsening over time. Since keratoconus can be difficult to detect until it reaches a moderate to severe stage, many people begin to experience distorted vision as a result. The doctors at EDOW highlight the advanced nature of CXL, saying the non-invasive treatment has shown to slow, if not completely stop, the progression of keratoconus.
According to Dr. Deepika Shah, who along with Drs. Thomas Clinch and Paul Kang will be performing the treatment at EDOW, CXL is a simple process with significant benefits. To perform the treatment, riboflavin drops are instilled into the eye and are then activated under a UVA light. She says this works to strengthen the crosslinking of the corneal structure, helping prevent the abnormal shape from progressing.
Only requiring one treatment session, CXL can provide the many people living with keratoconus new hope for preserving their vision. The doctors at EDOW encourage anyone interested in CXL to schedule a consultation with a qualified eye care professional to learn if the innovative solution is right for them.
About Eye Doctors of Washington
Eye Doctors of Washington was founded on academically focused eye care solutions. The team of experienced optometrists and ophthalmologists has been serving the DC metropolitan area for over 50 years with state-of-the-art treatment options. The doctors are committed to offering the highest quality of care possible while prioritizing patient comfort and safety. They are available for interview upon request.
To learn more about Eye Doctors of Washington, visit edow.com.
Contact:
Eye Doctors of Washington
(301) 215-7100
Toll Free: 877- SEE WITH LASIK
Chevy Chase – Wisconsin Avenue:
Chevy Chase Metro Building at Wisconsin and Western Avenues
2 Wisconsin Circle, Suite 230
Chevy Chase, MD 20815
Chevy Chase – North Park Avenue:
4600 North Park Ave.
Plaza North
Chevy Chase, MD 20815
Washington, DC – 16th Street NW:
1016 16th Street NW
Lower Level 100
Washington, DC 20036
Northern Virginia – Tysons Corner:
8230 Boone Blvd, Suite 125
Vienna, VA 22182
Washington, DC – Foxhall Square:
3301 New Mexico Ave NW, Suite 216
Washington, DC 20016