LASIK Surgeons in Washington DC Release New Mobile Website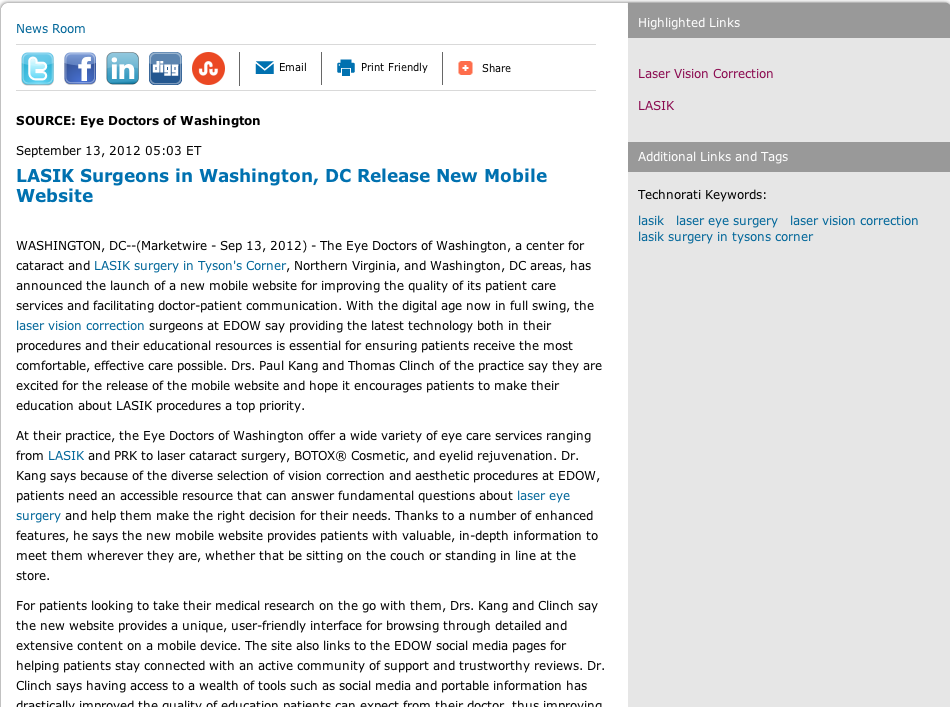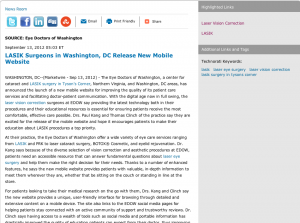 Washington, DC — The Eye Doctors of Washington, a center for cataract and LASIK surgery in Tyson's Corner, Northern Virginia, and Washington, DC areas, has announced the launch of a new mobile website for improving the quality of its patient care services and facilitating doctor-patient communication. With the digital age now in full swing, the laser vision correction surgeons at EDOW say providing the latest technology both in their procedures and their educational resources is essential for ensuring patients receive the most comfortable, effective care possible. Drs. Paul Kang and Thomas Clinch of the practice say they are excited for the release of the mobile website and hope it encourages patients to make their education about LASIK procedures a top priority.
At their practice, the Eye Doctors of Washington offer a wide variety of eye care services ranging from LASIK and PRK to laser cataract surgery and eyelid rejuvenation. Dr. Kang says because of the diverse selection of vision correction and aesthetic procedures at EDOW, patients need an accessible resource that can answer fundamental questions about laser eye surgery and help them make the right decision for their needs. Thanks to a number of enhanced features, he says the new mobile website provides patients with valuable, in-depth information to meet them wherever they are, whether that be sitting on the couch or standing in line at the store.
For patients looking to take their medical research on the go with them, Drs. Kang and Clinch say the new website provides a unique, user-friendly interface for browsing through detailed and extensive content on a mobile device. The site also links to the EDOW social media pages for helping patients stay connected with an active community of support and trustworthy reviews. Dr. Clinch says having access to a wealth of tools such as social media and portable information has drastically improved the quality of education patients can expect from their doctor, thus improving the likelihood of making the best, most effective decision for their situation.
Regardless of which procedure patients are looking for, Drs. Kang and Clinch say they hope patients utilize the mobile website to improve their understanding about the state-of-the-art LASIK and cataract surgery treatments that are available today. However, whether online at the house or on the go, they say patients should consider the source of information, and be certain it is coming from a highly-trained, board-certified ophthalmologist.
About Paul C. Kang, MD
Dr. Paul Kang graduated cum laude from Harvard University and earned his medical degree at Indiana University. He completed a residency in Ophthalmology at the Duke University Eye Center, followed by a fellowship in cornea, external disease, and refractive surgery at the John Moran Eye Center at the University of Utah. Dr. Kang is board-certified by the American Board of Ophthalmology and currently serves as an Assistant Clinical Professor at Georgetown University and the Washington Hospital Center. He is also the President of the Washington DC Metropolitan Ophthalmological Society and has been awarded the State Affairs Star Award by the American Board of Ophthalmology.
About Thomas E. Clinch, MD
A Phi Beta Kappa graduate of Cornell University, Dr. Thomas Clinch received his medical school training at Jefferson Medical College, after which he completed an ophthalmology residency at the Wills Eye Hospital as well as a fellowship in Cornea and Refractive Surgery at the Louisiana State University Eye Center. Board-certified in Ophthalmology, he was recently given an Achievement Award by the American Board of Ophthalmology and has been named in the National Registry of Who's Who, as well as Best Doctors and Top Ophthalmologists in America. Dr. Clinch has performed over 20,000 LASIK procedures and is a member of numerous professional organizations dedicated to refractive surgery.
The Eye Doctors of Washington has three locations in the Washington, DC area: 2 Wisconsin Circle, Suites 200 and 230 in Chevy Chase, MD, reachable at (301) 215-7100; 1016 16th Street NW Lower Level 100 in Washington, DC, reachable at (202) 659-2050; and 8230 Boone Blvd Suite # 125 in Vienna, VA, reachable at (703) 962-7104. The practice can also be contacted online via the website edow.com or facebook.com/edowdc.