Washington DC Surgeons Offer Custom LASIK with Improved Advantages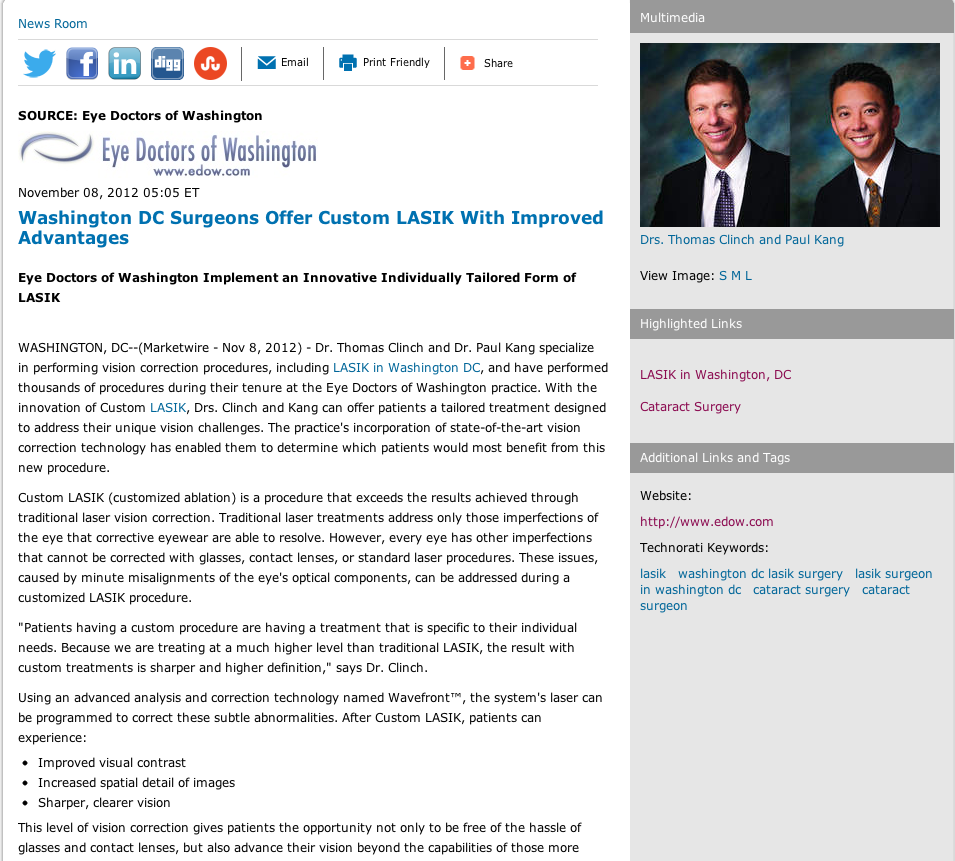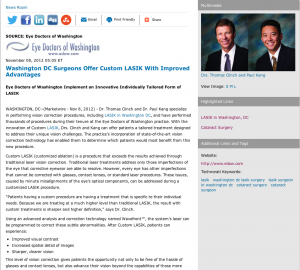 Eye Doctors of Washington implement an innovative individually-tailored form of LASIK.

Washington, D.C. — Dr. Thomas Clinch and Dr. Paul Kang specialize in performing vision correction procedures, including LASIK in Washington DC, and have performed thousands of procedures during their tenure at the Eye Doctors of Washington practice. With the innovation of Custom LASIK, Drs. Clinch and Kang can offer patients a tailored treatment designed to address their unique vision challenges. The practice's incorporation of state-of-the-art vision correction technology has enabled them to determine which patients would most benefit from this new procedure.
Custom LASIK (customized ablation) is a procedure that exceeds the results achieved through traditional laser vision correction. Traditional laser treatments address only those imperfections of the eye that corrective eyewear are able to resolve. However, every eye has other imperfections that cannot be corrected with glasses, contact lenses, or standard laser procedures. These issues, caused by minute misalignments of the eye's optical components, can be addressed during a customized LASIK procedure.
"Patients having a custom procedure are having a treatment that is specific to their individual needs. Because we are treating at a much higher level than traditional LASIK, the result with custom treatments is sharper and higher definition," says Dr. Clinch.
Using an advanced analysis and correction technology named Wavefront™, the system's laser can be programmed to correct these subtle abnormalities. After Custom LASIK, patients can experience:
Improved visual contrast
Increased spatial detail of images
Sharper, clearer vision
This level of vision correction gives patients the opportunity not only to be free of the hassle of glasses and contact lenses, but also advance their vision beyond the capabilities of those more traditional solutions, including standard LASIK surgery. Dr. Clinch and Dr. Kang say that with customized vision correction procedures, their patients have the ability to improve their vision beyond 20/20.
"Customized treatments are more precise and accurate than traditional LASIK. With customized treatments, we are addressing even the smallest aberrations according to an individuals unique 'fingerprint,' and as a result, more patients are achieving 20/20 or better vision," says Dr. Kang.
About Thomas Clinch, MD
Dr. Thomas Clinch has performed over 20,000 LASIK procedures. He is a graduate of Cornell University and earned his medical degree at Jefferson Medical College. Afterward, Dr. Clinch completed an ophthalmology residency at Wills Eye Hospital and a fellowship in Cornea and Refractive Surgery at the Louisiana State University Eye Center. He has served in the U.S. Navy as the head of the Department of Ophthalmology, Naval Hospital, Camp Lejeune and as an Associate Professor in the Department of Ophthalmology at the University of Utah. Dr. Clinch was recently honored with an Achievement Award by the American Academy of Ophthalmology and has been named in the National Registry of Who's Who, as well as Best Doctors and Top Ophthalmologists in America. In addition to vision correction procedures such as LASIK and PRK, he also performs cataract surgery.
About Paul Kang, MD
Dr. Paul Kang is a graduate of Harvard University and earned his medical degree at Indiana University, where he also served as a delegate to the American Medical Association. He currently serves as an Assistant Clinical Professor at the Department of Ophthalmology at Georgetown University and the Washington Hospital Center. Dr. Kang also works as a scientific reviewer for the Journal of Cataract and Refractive Surgery. His clinical research has been recognized by the American Society of Cataract and Refractive Surgery. Dr. Kang also performs cataract surgery for patients, as well as other vision correction procedures such as PRK.