EDOW Becomes Accredited Dry Eye Center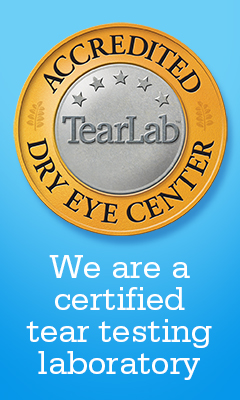 Around 25 million people in the U.S. suffer from Dry Eye Syndrome. The condition can be caused by many different factors, including environmental conditions, genetics, aging, and other medical problems. In fact, the disease is one of the most common reasons people visit their eye care professional. Symptoms of dry eye tend to be discomfort in the form of itching, burning, irritation, and excessive tearing.
Due to the prevalence of dry eye, Eye Doctors of Washington (EDOW) has obtained certification from TearLab™ as an Accredited Dry Eye Center. This status notes our center's advanced focus on diagnosis and treatment of the condition. By utilizing the latest techniques and equipment available through TearLab™, our team can improve the overall treatment process for dry eye.
To learn how you can treat your dry eye syndrome, please schedule an appointment with us today. More information about our TearLab™ accreditation and treatment methods can be found in our upcoming blog post. Stay tuned!