Washington, DC Ophthalmologists Now Offering TECNIS Symfony IOL for Presbyopia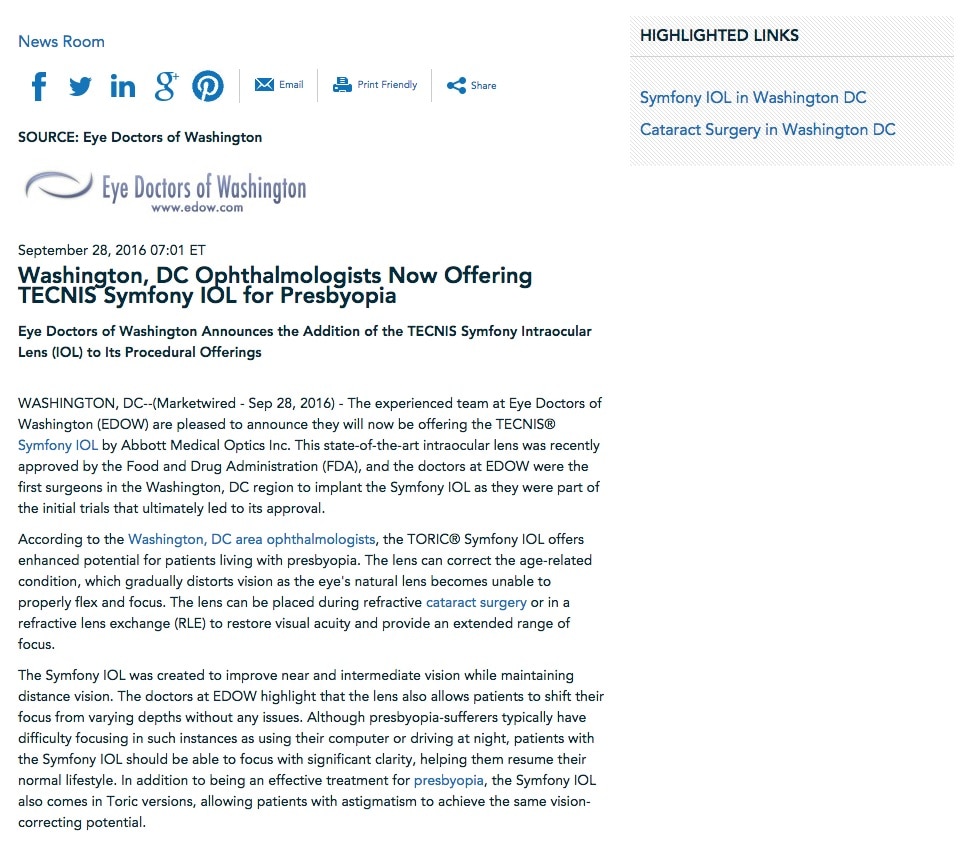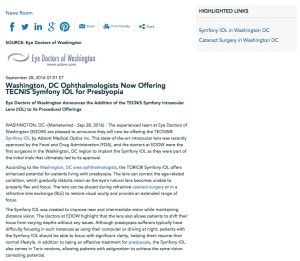 Eye Doctors of Washington announces the addition of the TECNIS Symfony Intraocular Lens (IOL) to its procedural offerings.
Washington, DC — The experienced team at Eye Doctors of Washington (EDOW) are pleased to announce they will now be offering the TECNIS® Symfony IOL by Abbott Medical Optics Inc. This state-of-the-art intraocular lens was recently approved by the Food and Drug Administration (FDA), and the doctors at EDOW were the first surgeons in the Washington, DC region to implant the Symfony IOL as they were part of the initial trials that ultimately led to its approval.
According to the Washington, DC area ophthalmologists, the TORIC® Symfony IOL offers enhanced potential for patients living with presbyopia. The lens can correct the age-related condition, which gradually distorts vision as the eye's natural lens becomes unable to properly flex and focus. The lens can be placed during refractive cataract surgery or in a refractive lens exchange (RLE) to restore visual acuity and provide an extended range of focus.
The Symfony IOL was created to improve near and intermediate vision while maintaining distance vision. The doctors at EDOW highlight that the lens also allows patients to shift their focus from varying depths without any issues. Although presbyopia-sufferers typically have difficulty focusing in such instances as using their computer or driving at night, patients with the Symfony IOL should be able to focus with significant clarity, helping them resume their normal lifestyle. In addition to being an effective treatment for presbyopia, the Symfony IOL also comes in Toric versions, allowing patients with astigmatism to achieve the same vision-correcting potential.
The doctors at EDOW look forward to introducing the new IOL option to their patients this month. They believe the lens will contribute to their versatile product offering, allowing patients with a variety of needs to obtain the most beneficial treatment for their presbyopia.
About Eye Doctors of Washington
Eye Doctors of Washington has been offering a comprehensive array of eye care solutions for over 50 years. In addition to performing advanced procedures – such as LASIK, glaucoma treatment, and blepharoplasty – the team focuses on academics and industry research, allowing the doctors to offer the newest solutions available. The team is composed of seven ophthalmologists and four optometrists, all highly experienced and knowledgeable in their area of specialty. The doctors are available for interview upon request.
To learn more about Eye Doctors of Washington, visit edow.com.
Contact:
Eye Doctors of Washington
(301) 215-7100
Toll Free: 877- SEE WITH LASIK
Chevy Chase – Wisconsin Avenue:
Chevy Chase Metro Building at Wisconsin and Western Avenues
2 Wisconsin Circle, Suite 230
Chevy Chase, MD 20815
Chevy Chase – North Park Avenue:
4600 North Park Ave.
Plaza North
Chevy Chase, MD 20815
Washington, DC – 16th Street NW:
1016 16th Street NW
Lower Level 100
Washington, DC 20036
Northern Virginia – Tysons Corner:
8230 Boone Blvd, Suite 125
Vienna, VA 22182
Washington, DC – Foxhall Square:
3301 New Mexico Ave NW, Suite 216
Washington, DC 20016