Debunking Myths and Misconceptions of LASIK and Refractive Surgery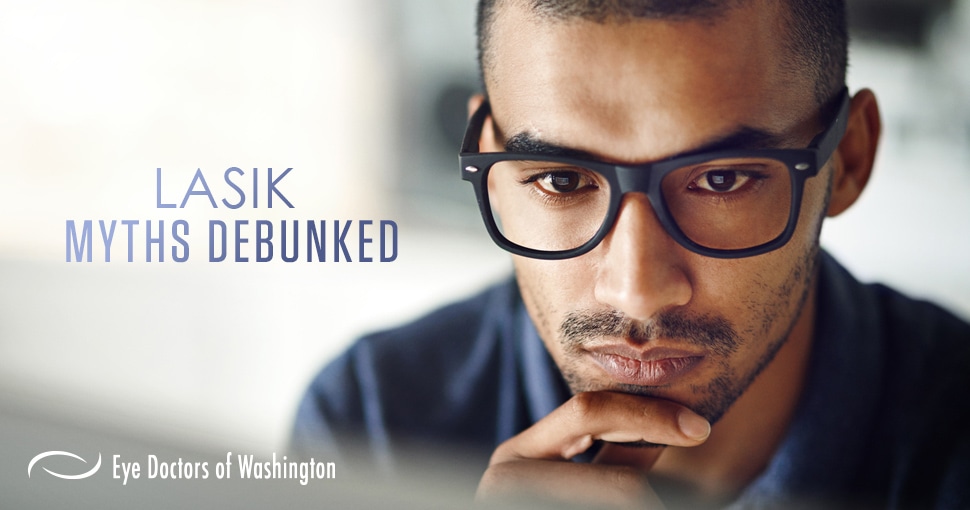 Eye Doctors of Washington have been caring for the vision of patients in Washington D.C., Northern Virginia, and Maryland for over 50 years. We pride ourselves on providing comprehensive care and educating patients to make smart choices. Our LASIK specialists, Dr. Paul C. Kang and Dr. Thomas E. Clinch and have performed over 50,000 LASIK vision correction procedures, while always emphasizing personal treatment and individual care for each patient. We would like to take this opportunity to debunk common LASIK myths and share the truth about LASIK.
MYTH: Long term side effects such as dry eye and double vision are common after LASIK.
FACT: LASIK carries some risk of side effects, as does any surgery or medical procedure. However, complications are extremely rare and laser vision correction is widely regarded to be one of the safest surgical procedures available. For the small percentage of patients who do experience side effects such as dry eye or sensitivity, these symptoms often last only a few weeks after surgery. According to the American Refractive Surgery Council, surgical complications occur in fewer than 1% of LASIK surgeries. Learn more about LASIK risks.
MYTH: LASIK and the field of Laser Vision Correction Surgery are still new, with few long-term outcome studies.
FACT: LASIK has been FDA approved and widely performed in the United States for over 25 years. In fact, when laser vision correction was being developed, Dr. Clinch was involved in many of the FDA clinical trials which were ultimately responsible for making LASIK a mainstream procedure. Millions of people have had LASIK and studies report that years after their LASIK surgeries, over 98% of patients report being satisfied with their LASIK results.1
MYTH: It does not matter which doctor performs your procedure, the outcomes will be the same because the laser does all the work.
FACT: The surgeon's skill and the level of care provided is an essential element in the success of any surgical procedure. In a LASIK procedure, the laser is very advanced, but the surgeon must also create and manipulate the corneal flap, an extremely delicate surgical procedure. Patients considering LASIK should always take time to research the credentials and experience of their LASIK surgeon, and meet with the surgeon to ensure that all their questions are answered.
At Eye Doctors of Washington, our LASIK surgeons are fellowship trained in corneal surgery, meaning that above and beyond being general ophthalmologists, or eye surgeons, they are cornea specialists. Some physicians go to a weekend certification course and then are officially "certified" to perform this procedure. These crash courses cannot replace the training and experience of a true cornea specialist. While LASIK is a safe procedure, you still want to make sure that the doctor in charge of caring for your eyesight is experienced and highly qualified. Learn more about the doctors at Eye Doctors of Washington.
MYTH: Since LASIK is so safe, the cheapest surgery is no different that the most expensive surgery.
FACT: We all know the old adage "you get what you pay for." This also applies to laser vision correction. You only have one set of eyes and vision care is not a good place to cut corners. LASIK and refractive surgery IS surgery. Patients should be cautious of discount centers that may not be as focused on patient screening and care. Consumers should make sure they are comparing equivalent care, expertise, and experience when doing their research. Some things to look for to indicate quality LASIK care:
A surgeon who meets with you during your consultation and will personally see you post-operatively
A surgeon who is trained in corneal surgery and offers a variety of procedures in addition to LASIK
A LASIK center with the most up to date equipment offering bladeless procedures and advanced technology
Transparent pricing with no bait and switch tactics
At Eye Doctors of Washington you'll find all of the above, plus doctors who are widely considered to be leaders in their field and a staff dedicated to comprehensive care. Learn about financing for LASIK at Eye Doctors of Washington.
MYTH: Custom All-Laser LASIK is not significantly better than standard LASIK.
FACT: Custom LASIK is far superior to standard LASIK. While some surgeons still perform traditional LASIK with a microkeratome, or blade, the clinical outcomes for all-laser LASIK are much better. At Eye Doctors of Washington, we are committed to no-blade, all-laser LASIK because it is more precise, more accurate, safer, and allows for a quicker recovery than standard LASIK.
MYTH: Anyone who wants to have LASIK is a candidate.
FACT: Not everyone is an appropriate candidate for LASIK. At Eye Doctors of Washington, we thoroughly examine each patient and clearly explain their options. Dr. Clinch says, "We want you to be educated about LASIK, not sold on LASIK." After careful evaluation, we often reject people as candidates for LASIK. We always explain why and let them know if another vision correction procedure may be appropriate. There are many options for vision correction including LASIK, PRK, refractive lens exchange surgery with multifocal or toric intraocular lenses, or just glasses and contact lenses. Many patients find our practice convenient because we are able to offer the full range of options on-site. The doctors here will help choose the appropriate procedure for you without high pressure sales tactics. We are dedicated to comprehensive care and offering only the treatments that are best suited to each patient's individual needs. Take our LASIK Quiz to learn if you may be a candidate.
MYTH: If you were told that you are not a candidate for LASIK, you never will be.
FACT: Technology in the field of laser vision correction has advanced exponentially over the years. Depending on how long ago you were examined, you may have been rejected for reasons that can now be resolved with custom all-laser LASIK. What is more likely though, especially if you were told you are not a candidate by a practice that does not offer a range of vision correction options, is that you may be a candidate for another type of procedure. While LASIK is the most popular vision correction surgery, there are many LASIK alternatives available. Our ophthalmologists are highly experienced in procedures such as PRK and Refractive Lens Exchange (RLE). We recommend scheduling a consultation to learn more about which vision correction options may be available for you.
MYTH: LASIK is painful and involves a long recovery time
FACT: The actual procedure for LASIK is fairly quick and the patient will be treated with numbing drops before the procedure. Some patients report feeling a sense of pressure, but the numbing drops prevent any pain. Mild discomfort or irritation may occur for a day or two after surgery, but can be alleviated with pain medication or eye drops. Recovery from LASIK requires minimal downtime. Patients will be given post-operative instructions and scheduled for a follow-up appointment, but most patients resume regular activities or return to work within 2 days.
Contact Us
If you still have questions about LASIK, feel free to give us a call at 301-215-7100 or check out our answers to Frequently Asked Questions about LASIK to learn more about the details of the procedure. The best way to learn if LASIK may be right for you is to schedule a consultation and meet with one of our highly experienced LASIK surgeons.
---
1 Journal of Cataract and Refractive Surgery 2016 Aug;42(8):1224-34. doi: 10.1016/j.jcrs.2016.07.012.