EDOW Doctors Selected to 'Washingtonian' Top Doctors List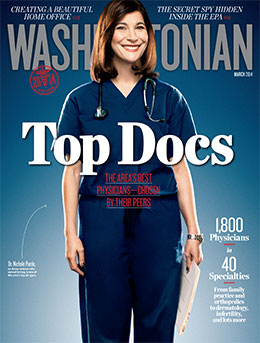 For two generations, Eye Doctors of Washington (EDOW) has had the privilege of serving the Washington community with the most state of the art technology and highest level of clinical care. EDOW is proud to announce that Drs. Clinch, Kang, Mayer, and Vicente have all been selected as Washingtonian Top Doctors. They were also chosen as Super Doctors by the Washington Post and proudly serve as the team Ophthalmologists for the Washington Capitals and Wizards.
The doctors at EDOW strive to provide the most advanced technology for restoring vision. Drs. Clinch and Kang were the first in the metro area to offer laser assisted cataract surgery, as well as specialized intra-ocular lenses (IOL) for extreme myopia. After helping thousands of Washingtonians eliminate the need for glasses and contact lenses as two of the area's premier LASIK surgeons, they were also recently chosen to be investigators in an FDA clinical trial regarding the latest excimer laser for refractive surgery.
EDOW also focuses on complete eye care having recently been accredited as a Dry Eye Center of Excellence, as well as specializing in optometry, pediatrics, and glaucoma. Dr. Mayer was the first doctor in the Washington DC area to offer the iStent, a minimally invasive glaucoma surgery, and continues to lead efforts for reducing risk in glaucoma treatment.
The Eye Doctors of Washington offers 4 convenient locations in the Washington DC, Maryland, and Northern Virginia area. To learn more about EDOW or to schedule an eye exam please contact us.